South Sudan: Government and rebels trade accusations over violations of ceasefire agreement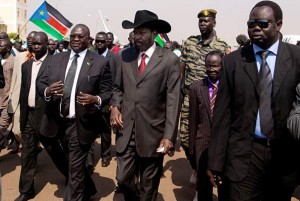 Representatives of the government and rebels in South Sudan have accused each other of instigating several brief clashes this weekend despite the new agreement to end all hostilities.
On Friday, President Salva Kiir and Riek Machar agreed to enforce a ceasefire agreement to permit humanitarian aid to reach civilians at the heart of the war.
However, less than 24-hours after this deal was announced, reports indicate that the army launched an offensive on rebel positions in Unity State and Upper Nile State, according to rebel spokesman, Lul Ruai Koang.
Meanwhile, the army have also accused the rebels of attacking at least two of its positions in Unity State. According to Army Spokesman, Philip Aguer, the attacks occurred "only six hours after the ceasefire came into effect."
Mr. Aguer has revealed, today, that calm has returned to parts of Unity State where fighting was recorded on Sunday.
He further disclosed that the government is preparing to transfer monitors from the Intergovernmental Authority for Development (IGAD) ceasefire monitoring and verification team to Bentiu to confirm claims of rebel attacks.
Although both sides have been able to agree to halt fighting, they still remain sharply divided.
On returning from Addis Ababa, President Kiir has announced that the country's presidential election  – originally set for 2015 – has been postponed to 2018 to enable better preparations.
It is unclear how much impact this news will have on the reconciliation process. While the rebels have repeatedly insisted on a power-sharing deal, President Kiir has made it clear that he will not consent to such an agreement.
Photo/New Vision