Kenya and China sign trade, development and cooperative agreements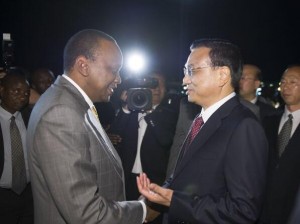 Representatives of different branches of the governments of Kenya and China have penned up to 17 deals this weekend during a rare visit of the Chinese Prime Minister Li Keqiang to Nairobi.
Reports indicate that the agreements cover several areas including agriculture, aviation, education, infrastructure, wildlife, humanitarian outreach as well as technological and financial co-operation.
The Chinese government has reportedly agreed to jointly fund the construction of the first phase of a standard gauge railway line from Mombasa to Nairobi.
President Uhuru Kenyatta underscored the importance of the agreement and expressed his government's willingness to deepen ties with China.
He further noted that the new railway line will facilitate business and social relationships in the region and thereby hasten its integration.
Many pundits have also applauded the Chinese government's support for the railway line, which is expected to eventually span across the entire east African region.
The signing ceremony at the State House, Nairobi, was reportedly also witnessed by the leaders of Rwanda, Uganda, Tanzania and South Sudan.
Commenting on the visit of the Chinese leader, President Yoweri Musuveni of Uganda commended the Chinese government's strategy of dealing with Africa. He explained that China focused on real issues of development and on projects of mutual gains without interfering in the process of governance.
Meanwhile, PM Keqiang has noted that China's relationship with Africa is grounded on equality, respect and mutual interest.
Reports indicate that Chinese investment to east Africa – particularly Kenya – have increased dramatically over the past year. Currently, China is regarded as one of the Kenya's largest trading partners.
Photo/People's Daily China