President Kenyatta signs Marriage Act 2014 into law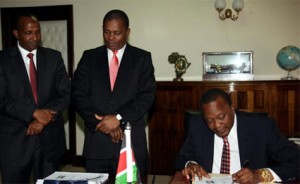 The President of Kenya, Uhuru Kenyatta, on Tuesday gave his approval to new laws governing marriages in the bustling east African nation.
The Marriage Act 2014, which has been debated in parliament for some years now, introduces many modifications to the existing marriage laws.
The most controversial of these changes seems to be the clause that men can take on new wives without consulting with their former partners. It also places no limit on the amount of wives a man can marry.
Female Members of Parliament reportedly staged a walk-out of the National Assembly in protest against these amendments during a debate over the contentious bill last month. Religious leaders have also voiced their dissent for the new law – which allegedly goes against the standards for marriages in some religions.
While a statement from the president's office has underscored the "voluntary" nature of marriages, "whether in a monogamous or polygamous union". Many critics of the law have raised concerns of financial consequences (i.e. increased poverty) for the wanton promotion of polygamy in the country.
The new act further introduces some amendments to the procedure for the dissolution of marriages. It also abolishes unregistered marriages and discharges men from the liability of paying damages for backing out of a marriage promise.
Reports indicate that besides the Marriage Act, the parliamentary entourage led by National Assembly Speaker, Justin Muturi, also provided the Heroes Bill 2014 to the President for his assent.
Photo/Daily Nation