UN: Rebels kill hundreds of civilians in Bentiu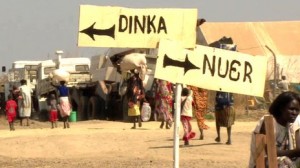 Rebel forces loyal to Riek Machar have killed about 200 civilians and injured up to 400 this past week in a number of ethnically-driven attacks in the capital of Unity State.
Reports indicate that the deadly raids occurred between the 15th to 17th April, following the rebel's takeover of the oil-rich city.
According to the United Nations, the rebels attacked several locations in Bentiu including a mosque, a Catholic Church, a World Food Programme (WFP) compound and a hospital.
The attackers reportedly separated the group based on their ethnicities and nationalities before completing the massacre.
Reports indicate that the victims were predominantly from the Dinka ethnic group. However, some foreign nationals and members of other ethnic groups were also reportedly among the casualties.
Toby Lanzer, the Assistant Secretary General of the UN, has revealed that the bodies of the victims still lays strewn across the streets of Bentiu. He has further called on both factions of the divide to grant humanitarian agencies access to the displaced civilians – many of whom are reportedly in urgent need of supplies and medical care.
UN officials have disclosed that the agency successfully rounded up several civilians in Bentiu last week. Reports indicate that the number of civilians in the United Nations Mission in South Sudan (UNMISS) camp in Bentiu has since increased to about 22,000.
In a statement published on Monday, the UN decried the attack and directed South Sudanese authorities to open an investigation into it.
Several commentators have warned that the conflict in the world's youngest nation is increasingly being fought along tribal lines.
Last week Thursday, more than 50 Nuer civilians were killed in Bor after a group of armed Dinka youths stormed a UN compound they were hiding in.
It is unclear if the raid was in any way connected to the attack on Dinka civilians in Bentiu earlier last week. However, reports indicate that the attack was triggered by the Nuer group's celebration of the rebel's successful usurpation of Bentiu from government forces.
Meanwhile, the UN has been able to provide food to 60% of the civilians in its base in Bentiu, according to Toby Lanzer. He further noted that all the civilians in the compound are expected to be provided food rations for 15 days.
The UN has revealed that humanitarian agencies are in need of about $800 million to cover the projected cost of aid operations in South Sudan.
Photo/BBC