Djibouti sets free Eritrean prisoners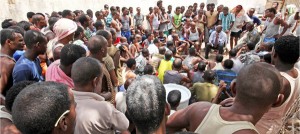 The Government of Djibouti has released over 200 Eritrean citizens who have been in detention in the country for reportedly close to five years.
Reports indicate that the group have been released into the custody of the United Nations refugee agency.
Djiboutian presidential adviser, Najib Ali Tahir, told the press on Monday that "We have made them talk to the International Committee of the Red Cross (ICRC) to facilitate their return to their country, and we're doing this despite the fact that we never heard of Djibouti's POWs."
The release of the group reportedly comes after pressure from the United Nations and activists on Djiboutian authorities. This culminated in their release agreement in on April 13.
Reports indicate some of the prisoners are part of a group of Eritrean asylum seekers who crossed over to Djibouti in 2008 – ultimately fuelling the short war between the two countries. The others are reportedly part of the prisoners of war (POWs) Djiboutian forces captured from the neighbouring country during the short exchanges.
The United Nations High Commission for Refugees (UNHCR) has confirmed the release of the group from the Nagad Detention Facility to the Ali Addeh refugee camp south of the nation's capital, Djibouti City.
The United Nations' Special Rapporteur on Human Rights, Shiela B. Keetharuth, applauded the move by the Djiboutian government.
She, however, expressed worries over the human rights situation in Eritrea and has called on the international community "to grant at least temporary refuge or protection to the more than 300,000 Eritrean refugees and asylum seekers, in line with their obligations under the international refugee and human rights law."
Reports indicate that at least 19 Eritrean POWs are still being held in Djibouti.
Photo/Awate.com: Eritrean refugees in Djibouti.