2 United Nations consultants killed in Somalia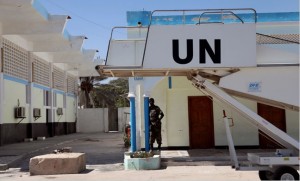 Two consultants of the United Nations Office on Drugs and Crime (UNODC) have been shot and killed on Monday in Galkayo, the capital of Mudug, Puntland, north central Somalia.
According to reports from local sources, the two men – reportedly from France and Britain – were shot as they exited the Galkayo airport by two unidentified suspects in police uniform.
Reports indicate that the duo – identified as Simon Davis and Clement Gorrissen – were scheduled to meet with Somali officials to discuss the regulation of money transfer in the war-torn country.
Last year, Barclays Bank, the only international money transfer service provider for local operators, revealed plans of terminating the service due to concerns it is being used to facilitate money laundering and sponsor terrorism.
The move attracted widespread protests from Somali nationals worldwide. According to reports, remittances – to the tune of about $1 billion annually – makes up close to 50% of the Somali economy.
Many commentators have explained that the move is meant to cut the support al Shabab and other local terrorists are receiving from their international patrons. However, it is unclear who was behind the assassination of the two UN workers.
Meanwhile, the United Nations Security Council, the United Nations Secretary General, Ban Ki Moon, the Special Representative of the Secretary General for Somalia, Nicholas Kay, and the Executive Director for UNODC, Yury Fedotov, have all released statements to condemn the attack on the two men and have demanded thorough investigation into the incident to ensure the perpetrators are identified.
Photo by Somaliland Press.