Khartoum postpones UN Refugee Program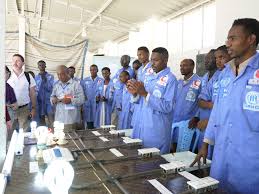 The Sudanese government has announced the suspension of a United Nations program aimed at providing training and other forms of assistance to thousands of refugees and local residents in eastern Sudan.
The Sudanese Media Center issued a statement announcing that the Transitional Solutions Initiative (TSI) is currently on hold to allow for the evaluation of the project.
Pontus Ohrstedt, a programme specialist at the UNDP, confirmed the program's suspension to AFP, saying the postponement was necessary to enable a joint assessment of the program.
He further added that the purpose of the evaluation is to provide guidelines on the way forward in approximately two weeks.
TSI is a partnership between the United  High Commission for Refugees (UNHCR), the United Nations Development Program, the World Bank, the Governments of Netherlands and Norway as well as several Sudanese agencies.
Reports indicate that eastern Sudan has experienced an influx of refugees besides being home to large populations, mostly from Ethiopia and Eritrea. Pundits estimate that refugees in the region number over 74,000.
According to a UNDP report in 2012, the ongoing displacements in Sudan has resulted in a continued reliance on humanitarian assistance. This reportedly influenced the UNDP's decision to chose the area to pilot its this project.
Analysts say since its inception, the joint program has successfully enhanced sustainable livelihoods and self-reliance by reinforcing access to markets, resources and improving skills. Reports indicate that since 2012, about 163,000 people have benefitted from the initiative.
It has consequently decreased dependency on aid and promoted socio-economic integration of the refugees.
Nevertheless, the program has reportedly some experienced challenges in implementing its goals.
Photo by UNHCR.