South Sudan: Rivals resume Discussions in Addis Ababa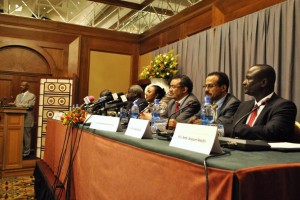 Representatives from both sides of the divide in South Sudan are set to resume negotiations to end the almost 3-month long insurrection in the world's youngest nation on Tuesday, March 25th.
According to a statement by the Inter-governmental Authority for Development (IGAD), "The Second Session of Phase II of the South Sudan Peace Process that adjourned on 3 March has resumed on 25 March 2014, following the arrival of all the Parties in Addis Ababa."
The statement goes on to criticize the "flagrant breach" of the ceasefire agreement between the two factions in January. Fighting has been reported in several states in South Sudan since the peace deal was penned two months ago and both sides continue to trade blames for igniting the conflict.
While calling on both sides to respect the agreement, the statement goes on to reveal that "consultations among IGAD Special Envoys, regional leaders, the African Union, the United Nations and friends of South Sudan are underway on the speedy operationalization of the Monitoring and Verification Mechanism (MVM) and deployment of Monitoring and Verification Teams (MVTs) as well as the MVM's Protection Force (PF)."
The United Nations has warned of a brooding humanitarian crisis in South Sudan as over a million people are reported to have been displaced since December 2013.
Meanwhile, the South Sudanese government continues to demand that the 7 politicians released to Kenya are barred from further participation in the talks.
Mawien Makol Arik, spokesman for the South Sudanese Foreign Affairs Ministry, is quoted by the VOA saying "You cannot include in the negotiations people who are needed by the court. This is something illegal."
The 7 politicians and 4 of their colleagues still in the custody of the government of South Sudan have been charged with treason. Although the court has issued an order for the repatriation of the 7, South Sudanese authorities are yet to effect the request – forcing the judges to postpone their trial.
But contrary to the demands of the government side, the rebels are demanding that all 11 politicians are freed and should participate in the discussions.
It is unclear what effects, if any, their contradicting demands will have on the protracted discussions.
Authorities search for weapons in Juba
Reports indicate that South Sudanese authorities on Sunday, March 23rd, conducted an unexpected house-to-house search for weapons in Juba.
According to Sudan Tribune, the exercise was carried out by the Police Criminal Investigation Division, Sudan People's Liberation Army, as well as officers from the prisons and wildlife service.
A top official has revealed that thousands of ammunitions, drugs and forgery machines were gathered during the operation.
Monday Enoka, a police spokesman, noted that the high-caliber weapons found during the operation – including RPGs, grenades and automatic rifles – "are weapons for major assaults." He went on to express surprise that the ammunitions were found in the possession of alleged civilians.
Photo by IBTimes/Jacey Fortin.