Kenyan Parliament makes controversial Amendments to Marriage Bill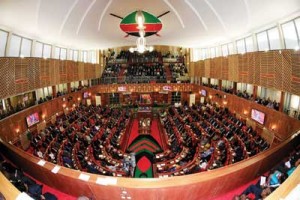 Male and female members of the Kenyan parliament were drawn into a sharp debate on Thursday as the National Assembly tabled proposed amendments to the country's Marriage Bill.
Although the house made numerous changes to the bill at the end of the day, the crux of the debate was the clause that required a man to seek permission from his wife before marrying another woman.
Male legislators argued that the clause goes against both traditional and biblical culture, adding that it is unlikely a woman would consent to such a request.
However, female legislators highlighted the fact that polygamous families are usually drawn into bitter inheritance disputes.
Despite continued protests by the females, the males – majority in the house – had the upper-hand and the amendments were made.
A report by Capital FM quotes Mumias East Member of Parliament, Banjamin Washiali, saying – in defense of the bill – that "I am a son of the second wife of my father, if this Bill was in place, I would not be in this world."
Reports indicate that female members of the assembly staged a walk-out of the house in protest against the amendments.
The house also modified a clause that makes males who promise to marry a woman, but change their decision, liable to be fined.
Male legislators categorized the clause as extortion, arguing that such agreements are mutual therefore one partner shouldn't be made to bear the blame for its failure.
The house also passed a clause against same sex marriage and for all marriages to be legally registered – irrespective of the religion of the couple.
The new amendments, which also includes a clause that in the event of a divorce both partners should share the cost of caring for their children, has been hailed by many pundits as long-awaited.
However, many female commentators and some religious leaders have been critical of some aspects of the bill.
Recently, the Kenyan parliament also amended the country's Matrimonial Property Act 2013. Under the new law, which recognises non-material contribution to a house-hold, both partners legally have equal ownership of all the properties acquired during their relationship.
Photo by Standard Digital: The Kenyan Parliament.