Court Sentences 4 Men accused of Looting during Harar Town Fire Outbreak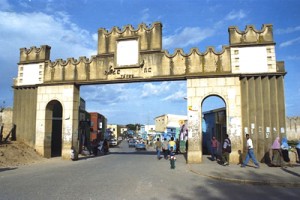 A court in Harar town has sentenced four people accused of looting the properties of traders during a fire outbreak at the Mebrat Hail Gebi Market Center last week.
The First Instance Court of Harar ruled, on March 17th, for the four men to be imprisoned for a minimum of a year and four months, and a maximum of 4 years.
The presiding judge, Ms. Huda Abdurahman, told the media that suspects stole clothes and electronic materials from shops around the burning market place during the fire on March 9th.
The four men have been identified as Moges Alemayehu Shibeshi (who will serve four years), Bisso Umar Ali and Yordanos Fasil Muluneh (will serve 2 years each) and Zemedkun Asfay (will serve for a year and 10 months)
The judge disclosed that the varying sentences is based on an analysis material evidence and testimonies from witnesses.
The fire in Harar town, about 10 days ago, is the second to have occurred at the historic site in less than four years. The outburst destroyed more than 400 shops and an undisclosed amount of other valuable assets, according to reports.
Photo by Ethio Guide: The Harar gate.