Ethiopia invites Media to Renaissance Dam construction site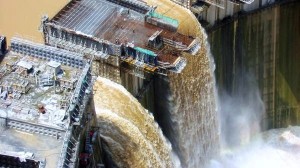 The Ethiopian government has taken a number of foreign journalists on a tour of the Grand Ethiopian Renaissance Dam (GERD) construction site.
According to the Communication Affairs Office, the visit is to enable foreign media houses get some "first hand" information about the project, which has been at the center of a winding public debate.
Reports indicate that over twenty professionals from about thirteen media houses participated in the tour.
Next month it will be three years since the construction of the dam began. Officials from Ethiopia's electrical powerhouse have since revealed that the project is over 30% completed.
Reports indicate that two turbines are due to begin operating by next year, which are expected to generate about 700 MW of electrical power. However, the entire project will be finished in 2017.
After over a month of trading criticisms, Ethiopian and Egyptian officials have expressed their willingness to resume the negotiations over the dam, which was abruptly stopped in February after the talks hit a brick wall.
The Egyptian Irrigation Minister, Mohamed Abdul Muttalib, in a statement released on Sunday, March 16th, expressed his nation's willingness to continue the talks.
Meanwhile, Ethiopia's ambassador to Egypt, Mohamoud Dirir, has noted that there is no need for a third party to mediate between Ethiopia and Egypt.
He said it is "naive" to view the relationship between the two nations from the "prism" of the Nile dispute.
Dirir further highlighted the fact that dialogue is "the only alternative in order to maximize the benefits, which our peoples and the region can reap from the Ethiopian Grand Renaissance Dam."
Italian and Sudanese officials have voiced their willingness to bridge the gap between the historic neighbors through mediation.
The talks between the irrigation ministers of Ethiopia, Sudan and Egypt have centered on the effects of the dam on the environment – while Ethiopian authorities say the effects will be minimal, the Egyptian side has expressed fears to the contrary.
The three nations are yet to agree on the process of implementing recommendations from a panel of experts, who undertook a study of the dam last year.
Nonetheless, the Egyptian government has requested that a new study is undertaken into the dam by an international panel of experts – but Ethiopian officials have dismissed this demand as being redundant.
Photo: Aerial view of a section of the Grand Ethiopian Renaissance Dam.