Kenya: Lecturers of Public Universities commence Strike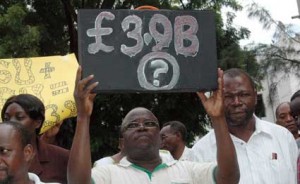 Public university lecturers and some non-teaching staffs in an estimated 30,000 institutions across Kenya have commenced a strike action over a rift with vice chancellors and other top administrative representatives.
The dispute, reportedly over an unpaid sum of Sh 3.9 million due to the lecturers as part of a salary agreement in 2012, could potentially lead to the postponement of semester examinations in many universities scheduled for early next month.
Earlier in the week, representatives of Kenya's Union of Academic Staff Union (UASU) and Kenya's University Staff Union (KUSU) announced the strike action after a meeting with the Cabinet Secretary for Education, Jacob Kaimenyi, failed to carve a path out of the crisis.
However, on Tuesday, the Inter-Public University Consultative Forum (IPUCF) successfully secured an injunction against the strike.
The Industrial Court reportedly also summoned representatives of Kenya's lecturers' unions to appear in court on Wednesday.
However, the injunction has been ignored and the lecturers failed to turn up to the hearing. According to them, the notice of the strike suspension was not properly served.
Reports indicate that the Industrial court ruled for the notice to be served through national newspapers.
In a recent report by Standard Digital, Mr. K'Olale decried what he described as "the misuse of courts…to intimidate workers who are demanding what is lawful for them."
He further called on the Chief Justice to "look into the Industrial Court, which has issued erroneous, unethical and immoral orders."
"The court is supposed to respect workers' rights, not to go against them" he added.
The lecturers' unions have reportedly also uncovered up to Sh 3 billion unaccounted for by the university's administration.
They have further accused Kenya's public university administrators of fraud, abuse of office and incompetence.
The administrators are yet to respond to these accusations. However, reports indicate that the delay in the payment of the Sh 3.9 million is due to a budgetary deficit.
Local media sources have reported that students across Kenya's public universities have been forced to attend to their other interests as libraries and other facilities remains closed.
A few confrontations between the striking lecturers and students were reported earlier in the week, but these only amounted to skirmishes.
This strike by public university lecturers comes after a similar industrial action by teachers and doctors last year.
According to some pundits, these overblown disagreements are an indication of several problems in the government's relationship with public workers.
Photo by Daily Nation: One of the protesting lecturers holds up a placard.