al Shabab's Irrigation Project improves Food Security in Somalia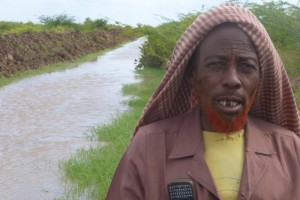 An ambitious plan to build canals to store and transport water to farms in Lower Shabelle has led to an increase in food production and a resurgence in farming.
Somalia is prone to cyclical droughts, but the effects of water shortages has been exacerbated by the prolonged war in the country.
Following one of the worst droughts in the nation's history in 2011, Islamic terrorist group, al Shabab – who still control a considerable section of central and southern Somalia – unveiled plans of digging canals to supply farms water in 2012.
Droughts have forced many civilians to migrate from areas under the control of the terrorists in the past – threatening their power base.
The irrigation project – estimated to cost about $2 million – is reported to be part of the group's strategies to improve the lives of people under its territories.
In Lower Shabelle where the project has reached an advanced stage, many farmers have expressed high hopes of its success.
According to a report by Al Jazeera, farmers noted that the canals have sustained their production and advanced them down the path of self sufficiency.
Last week, the United Nations also reported that Somali farmers have been able to supply high quality grains to the World Food Programme (WFP) for the first time in many years.
The United Nation's Food and Agricultural Organization's representative in Somalia, Luca Alinovi, is quoted saying this "shows that Somali farmers are not helpless."
"With minimal assistance including agricultural inputs, tools, technical skills in storage, grading and marketing, they can make a difference," she adds.
However, the FAO has noted that it cannot verify al Shabab's role in the improvement of food security in southcentral Somalia.
Although al Shabab has set limits on the operations of aid agencies in Somalia, many organizations say they continue to run streamlined outfits through local agents.
Despite these improvements, the United Nations has indicated that up to a tenth of the Somali population are at risk of experiencing food crisis.
al Shabab has sought to promote farming by developing alluring tax packages for farmers and promoting locally produced food stuffs.
Nonetheless, reports indicate that Somali farmers are currently able to satisfy only 40% of the nation's food demand.
al Shabab lose more towns
Over the weekend the Somali National Army and African Union forces successfully reclaimed five towns (Ted, Hudur, Wajid, Weel Dheyn and Buurdhubow) from al Shabab in Bakool, southern Somalia.
This followed the liberation of Rabdhure from the terrorists on Thursday, March 6th.
Sources indicate that the terrorists are retreating and that the campaign is set to continue.
Meanwhile, a recording of Ahmed Abdi Godane, a top ranking member of the terrorists, has been released.
On the short 12-minute recording, Godane, also known as Mukhtar Aby Zubayir, calls for attacks against Ethiopian troops and other AMISOM forces in the country.
"I call the mujahidens in the front lines to redouble the fight…" he said.
al Shabab is a vestige of the Joint Islamic Courts which exercised administrative control of Somalia for many years following a collapse of the central government in 1991.
The group has been in existence at least since 2006 and continues to battle the government to establish a state based on sharia law.
Photo by Somalia Newsroom: A man stands in front of one of the canals dug by al Shabab.