United Nations Marks World Wildlife Day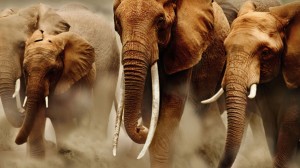 The United Nations Secretary General, Ban Ki-Moon, on Monday joined millions of people across the globe to mark the first ever World Wildlife Day.
Speaking at a photo exhibition organized by the Convention for International Trade in Endangered Species of Wild Fauna and Flora (CITES), Mr. Ki-Moon noted that "For millennia, people and cultures have relied on nature's rich diversity of wild plants and animals for food, clothing, medicine and spiritual sustenance. Wildlife remains integral to our future through its essential role in science, technology and recreation, as well as its place in our continued heritage."
He further revealed that this is what inspired the United Nations Security Council to designate March 3rd – the anniversary of the adoption of the CITES treaty – as World Wildlife Day in December 2013.
UN officials have noted the day was ear-marked to inspire a reflection on the irreplaceable place nature has played and continues to play in our lives.
The day is also expected to provide a platform for activists to raise awareness about particular threats to our biological biodiversity, such as the increasingly rampant environmental crimes.
"Wildlife remains integral to our future through its essential role in science, technology and recreation, as well as its place in our continued heritage…I urge all sectors of society to end illegal wildlife trafficking and commit to trading and using wild plants and animals sustainably and equitably," Mr. Ki-Moon said.
Although the CITES treaty, which about 180 nations have signed, regulates the trade of up to 35,000 species of plants and animals, critics say illegal hunting, trafficking and trade in many of these plants and animals continue to thrive – threatening many of the worlds most important plant and animal species with extinction.
Many observers have linked the tremendous increase in illegal wildlife trade in the past decade with the growing middle class in Asia.
Experts estimate that the illegal trade in wildlife is worth up to $19 billion and is the fourth largest illegal venture in the world.
For many years the Chinese government has been accused of turning a blind eye to reports of illegal wildlife trade in the Asian country. However, critics say in the past few years Chinese authorities have initiated several measures that attempts to put a strangle-hold on this large and continuously burgeoning market.
Similarly in Africa, several nations have developed strategies to curb the growth of illegal wildlife trade, which investigators have reported is being used to fund insurgency movements in the continent.
Last year, activists revealed that Africa's elephant and rhino populations have come under the threat of extinction as a result of excessive hunting. Custom authorities across the continent continue to intercept thousands of illegally obtained plant and animal parts intended for export.
Among other suggestions, opinion leaders have called for the training of forest service officers to effectively enforce wildlife laws. Others have highlighted on the importance of public awareness campaigns to fight this disturbing development.
Photo by Martin Harvey/AP: A herd of African elephants in Amboseli National Park, Kenya.