Uganda to hold Groundbreaking Ceremony for the New Japanese-funded Bridge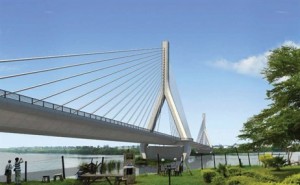 Japan has agreed to fund a new dual-carriage bridge in Uganda, which will provide a faster and safer means of crossing the Nile.
According to reports, Uganda's President, Yoweri Museveni, will preside over the ground-breaking ceremony in the presence of Dr. Akihiko Tanaka, head of Japan International Cooperation Agency (JICA) and the Japanese Ambassador, at a ceremony scheduled for Wednesday, January 29th.
According to a press statement by the JICA, the new bridge, which will be constructed a few kilometers from the old one, is expected to span 525 m and stand at about 80m high.
The project is expected to cost about $120 million, of which JCIA is reported to have already financed $100 million. According to sources, the Ugandan government will co-fund the outstanding balance.
The government is also expected to compensate locals for obligatory land acquisition along the River's access routes to the upcoming bridge to form a connection to Kampala's main highway, reports indicate.
The project is expected to relieve the current 60-year old bridge above the Owen Falls dam, which reports claim is already cracking. Sources indicate that the old dam and the road across it will also undergo major repairs to permit a road link.
The JCIA has expressed hopes that this project will promote economic activities in Uganda as well as in the neighboring regions, thereby fostering regional integration.
The upcoming groundbreaking ceremony for this bridge, which is expected to last for about 100 years, follows an agreement between the Ugandan government and Korea's Hyundai Engineering and Construction Company and Japan's Zenitaka Corporation in November 2013.
As of last year, part of the road works had already been initiated on both sides of the Nile River, but compensation for tenants residing on the land, which the government had to acquire, took a while, reports indicate.
Observers say the impending bridge will further enhance the Ugandan segment of the northern road, which connects Kenya's Mombasa port via Nairobi to Uganda's border.
Observers further assert that the bridge will boost trade in east Africa, while paving the way for safe and smooth traffic in and out of Uganda.
Officials have revealed that the old bridge will continue to be in operation until the new bridge is completed. Closing the old bridge would supposedly disrupt Uganda's economic activities and separate Uganda's southeastern region from the western regions. sources say. The construction of the new bridge is reportedly a reaction to safety concerns raised by the users of the current one, which requires major repairs, reports indicate.
Meanwhile, Uganda hopes to use this project to reinforce the transport capacity of the northern corridor and improve traffic safety.
Analysts predict that the new bridge will be vital in improving intra-regional trade with countries such as Burundi, ultimately boosting ongoing endeavors to integrate the economies of countries in the East African Community.
Photo: An impression of the upcoming bridge/worldhighways.com