South Sudanese Citizens flee to Ethiopia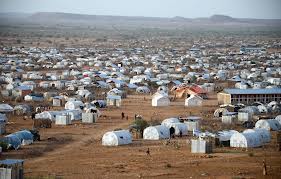 After over a month of fighting in South Sudan, thousands of civilians are believed to have migrated to Ethiopia, mainly through Gambella and Benishangul-Gumuz regions.
The International Organization for Migration (IOM) has reported that over 25,000 asylum seekers from South Sudan have been recorded in Ethiopia.
The organization, in a recent statement, noted that "as the number of Ethiopian returnees from Saudi Arabia passes 156,000, Ethiopia has been hit with another influx of migrants from the neighboring South Sudan."
The United Nations High Commissioner for Refugees (UNHCR) and Ethiopia's Administration for Refugee and Returnees Affairs (ARRA) have, meanwhile, indicated that the total number of asylum seekers coming into Ethiopia through Gambella and Benishangul-Gumuz could reach up to 60,000.
Tiergol town in Akobo Wereda currently hosts more than 70 per cent of the asylum seekers in the Gambella region, with nearly 20,000  South Sudanese asylum seekers reported to be in the town. Matar has the second largest population with nearly 4,000.
The UNHCR have revealed that due to its geographical position, as well as political developments in the region, Ethiopia is likely to continue to receive asylum-seekers from neighboring countries in 2014 and 2015. The organization has vowed to continue to provide protection and assistance to over 400,000 people in Ethiopia who are seeking refuge from insecurity, oppression or famine in neighboring countries.
According to reports, currently there are 18 refugee camps in Ethiopia, but a few more are going to be opened since the existing ones have reached their maximum capacity. In some locations, reports indicate environmental degradation and scarce resources have created tensions.
In Ethiopia and Kenya, refugees are facing similar challenges in terms of education, health, sanitation, clean water, shelter and education. This situation is reportedly forcing many children to be separated from their parents.
According to reports, the population of refugees in Ethiopia has nearly doubled in the past two years, mainly due to the influx of  Somali and Sudanese citizens. A steady number of Eritreans have also reportedly entered Ethiopia's Afar and Tigray regions.
Meanwhile, The Global Alliance for the Rights of Ethiopians in Saudi Arabia has donated USD 32,000 to support IOM's ongoing efforts to assist Ethiopian migrants stranded in Yemen.
This contribution from the Ethiopian diaspora organization based in Washington, DC, comes after an initial contribution of USD 30,000 earlier this month earmarked to provide humanitarian assistance to Ethiopians returning from the Kingdom of Saudi Arabia.
The IOM had reportedly sought aid to support their efforts to deliver assistance to migrants, whom, it has been revealed, are in need of medical attention, psychological support, food, water, sanitation, hygiene as well as help to reintegrate them back into their communities.
PHOTO: Dollo Ado refugee camp