Eritrean Naval Forces takeover Merchant Vessel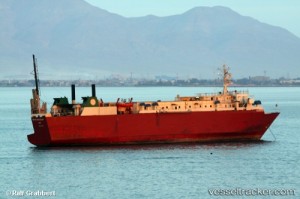 Eritrean naval forces have forcibly boarded and diverted a merchant vessel sailing past its territorial waters on Sunday.
The Saudi-owned MV Marzooqah, which displays a Togolese flag, is currently reported to be anchored at the Eritrean port of Massawa.
The captain of the vessel has revealed that his predominantly Egyptian crew members are all safe.
In the early moments of the incident, reports seem to suggest that the captain believed his vessel had come under pirate attack when Eritrean naval officers approached. Reports indicate that a brief exchange of gunfire transpired before the vessel was brought under control.
The Secretary General of the Seafarers Union of Kenya, Andrew Mwangura, has revealed that the ship sent a distress signal as it switched course from the Red Sea to the Eritrean coast on Saturday evening.
The motive behind the rather bizarre operation by the Eritrean navy remains unclear.
The loaded vessel was allegedly just approaching the once perilous Gulf of Aden before it was intercepted by Eritrean naval officers. This has led many to speculate that the vessel was being diverted from an ambush ahead.
Piracy has reduced significantly in the Gulf of Aden thanks to deployments and increased surveillance from international and regional naval forces.
According to reports, less than 20 attacks were recorded on vessels traveling past the Gulf of Eden in 2013, compared to over 100 attacks in 2011.
Photo by vesseltracker.com: The MV Mazooqah vessel.