White House to Host U.S. – African Leaders Summit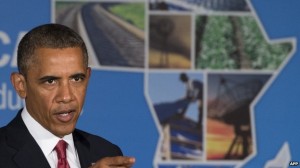 The White house has announced on Tuesday that the United States will host the first U.S.-Africa Leaders' Summit in Washington, DC, later in the year.
A statement from spokesman Jay Carney said, "The White House is pleased to announce that the United States will host the first U.S.-Africa Leaders' Summit in Washington, DC on August 5 and 6, 2014."
"President Obama looks forward to welcoming leaders from across the African continent to the nation's capital to further strengthen ties with one of the world's most dynamic and fastest-growing regions," he added.
Obama will send out invites to 47 African nations that are currently in good standing with the United States and are not suspended from the African Union — therefore there will be no place for states like Egypt, Zimbabwe and Sudan.
Egypt after the military takeover is not eligible to attend as it is currently suspended from the African Union. Whereas Zimbabwe's exclusion is as a result of the alleged suppression of democracy in the country.
Sources from Washington also reveal the absence of Sudan and Madagascar on the invitation list. The President of Sudan, Omar al-Bashir, will not be eligible to attend the summit because he has been indicted by the International Criminal Court (ICC).
Although President Uhuru Kenyatta is currently awaiting a delayed trial at the ICC on charges related to violence after an election in 2007 that left 1,000 people dead, Kenya will still be invited.
The summit is expected to build on progress made since the U.S. President's trip to Africa last summer. It will also advance the administration's focus on trade and investment in Africa, and highlight America's commitment to Africa's security, its democratic development, and its people.
The leaders are expected to discuss security concerns in Africa, notably the conflicts in South Sudan and the Central African Republic that have seen the engagement of U.S  troops and aircraft.
Since coming to office in 2009, President Obama has on a number of occasions invited African leaders for meetings at the White House. According to U.S. officials, the meetings didn't only focus on American interests in Africa, but have also been used to tacitly communicate the administration's expectations of democratic reforms in Africa and to reward those countries that have made advances in the cause of democracy and human rights.
In 2013, after the American President's visit Senegal, South Africa and Tanzania, Obama acknowledged in his speech that these countries have made progress in democratization.
Photo: President Obama during his visit in Africa in 2013.