Ethiopian Forces to Join African Union Mission in Somalia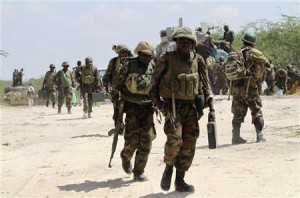 Soldiers from Ethiopia's National Defense Force in Somalia are set to be brought under the command of the African Union Mission in Somalia (AMISOM).
The African Union's Commissioner for Peace and Security, Ambassador Smal Chergui, reportedly revealed this at a meeting of the AU's security arm in Addis Ababa early last week.
According to him, the move is expected to increase the capacity of AMISOM to secure areas liberated and to free up other areas currently under the control of the al Qaeda linked al Shabab.
"This will enable us, together with our brothers in arms from Somalia, to resume military operations against the terrorist group Al-Shabaab, in order to create favourable conditions for further progress in the political process and the successful holding of elections in 2016?" he remarked.
Ethiopia was one of the first nations to deploy troops to Somalia to assist the Transitional Federal Government establish administrative control of the anarchic state. Despite their presence in the war-torn nation since 2006, Ethiopian forces have operated independently of AMISOM.
Last year, however, Prime Minister Hailemariam Desalegn of Ethiopia revealed that Ethiopia forces in Somalia will be brought under the command of AMISOM.
Explaining the decision, he revealed that bringing Ethopian troops under the command of AMISOM will significantly reduce the cost of the nation's peace keeping mission – which has, until now, been completely covered by the government of Ethiopia.
The decision is also expected to improve co-ordination between the different peace keeping forces in Somalia.
This revelation comes after the Ethiopian government announced late last year that it was cutting down the number of its forces in Somalia. Ethiopian forces had been temporarily withdrawn from Somalia in 2009, before being redeployed once again in 2011.
In November last year, the United Nations Security Council passed a resolution permitting an increase in AMISOM troops from about 17,000 to over 22,000 soldiers.
This was reportedly in response to requests for logistical support and for an increase in troops from AMISOM commanders.
In the past few years, AMISOM have successfully pushed back al Shabab and limited their area of operation to only rural communities in southern and central Somalia.
However, given the group's recent daring retaliatory attacks, experts say AMISOM must increase their efforts to suppress any further expansion of the terrorists.
Reports indicate that about 3,000 Ethiopian soldiers will be brought under the command of AMISOM.
Experts have noted that the process will most likely only involve a change in badge – as Ethiopia reportedly has close to 8,000 soldiers currently in Somalia.
Photo by Reuters/Feisal Omar: A group of African Union troops in Somalia on patrol.