Human Rights Watch Reports Ethnic-Based Attacks in South Sudan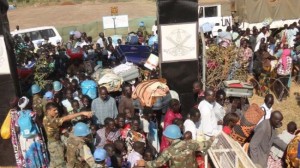 International organizations were skeptical about the situation in South Sudan after fighting erupted between government and rebels forces, it was evident that the division had been drawn based on ethnicity.
Human Rights Watch today revealed that a majority of the attacks on civilians  since December 15th, 2013 has been based on ethnicity.
According to a research conducted between December 27th, 2013 and January 12th, 2014, the organization says there was widespread killings of Nuer men by members of South Sudanese armed forces in Juba, especially between December 15th and 19th, including a massacre of between 200 and 300 men in the Gudele neighborhood on December 16th.
Researchers also documented the targeting and killing of civilians of Dinka ethnicity by opposition forces in other parts of the country.
Human Rights Watch's Africa director, Daniel Bekele said  "Appalling crimes have been committed against civilians for no other reason than their ethnicity."
He added that "Both sides need to leave civilians out of their conflict, let aid groups reach people who need help and accept a credible, independent investigation into these crimes."
According to Human Rights Watchs' research, in Juba, soldiers and policemen are conducting house-to-house searches for Nuer men. The search has been reportedly focused on certain neighborhoods in northwest Juba; such as Gudele, Manga, Mangatain, New Site and around areas where fighting began in southwest Juba.
More than 25,000 Nuer were displaced by the fighting and attacks in Juba, many are reported to have fled to two UN bases in Juba and say they are still afraid to return home.
Although Human Rights Watch was unable to conduct research in Bor – because of the ongoing conflict – witnesses described clashes between government and defecting anti-government security forces, indiscriminate attacks on civilians in densely populated areas, targeted shootings, widespread looting and destruction in Bor.
The number of civilian death is unclear, but many witnesses who had returned to Bor in late December said the streets were littered with dead bodies.
The attacks on Bor's Dinka community has been linked to the "Bor massacre" in 1991, when largely Nuer forces loyal to Machar attacked Dinka communities in and around Bor, killing hundreds and displacing thousands.
In other areas of South Sudan, Human Rights Watch reported indiscriminate attacks on civilians during fighting in Bentiu and Malakal. But the impact of the conflict on civilians in these areas requires further in-depth investigation.
On the other hand, Human Rights Watch said it had received multiple reports of looting of medical and humanitarian facilities, as well as government denials of flight authorization to areas where people are in desperate need of aid.
Photo by Press TV: Civilians at a UN compound in Juba.