South Sudan Troops Fight to Recapture the Last Rebel-held Town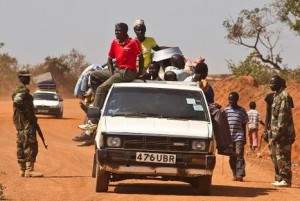 South Sudanese government troops on Saturday commenced a campaign to recapture Bor, the last remaining rebel-held town, the army said, a day after wresting control of a key northern oil city.
UN Secretary General Ban Ki-Moon and the Security Council meanwhile have urged President Salva Kiir to free political detainees loyal to rebel leader Riek Machar in order to kick start stalled peace talks.
Ban Ki-Moon noted that reports of widespread atrocities committed during the ongoing conflict would be investigated, adding that "perpetrators of serious human rights violations will be held accountable."
The fighting has forced nearly 400,000 people to flee their homes and has led to the death of over of 1,000 people, according to the United Nations.
Of those forced to flee, some 350,000 are internally displaced, while the remainder are believed to have fled into neighboring countries.
The International Crisis Group have revealed that an estimated 10,000 people may have been killed in about four weeks of violence in South Sudan, which only secured its independence from Khartoum only three years ago.
"There is still fighting near Bor," South Sudan's army spokesman Philip Aguer told AFP on Saturday. Meanwhile, the South Sudanese government made efforts to mobilize thousands of more troops and deal a final, crushing blow to Machar — a former vice president and seasoned guerrilla fighter — and his allies.
On Friday the army took over Bentiu, capital of the northern oil-producing Unity State. However, the rebels insist this is only a "temporary setback".
Machar told AFP by telephone that his forces would fight on and defend Bor, capital of the flash point state of Jonglei some 200 kilometers (120 miles) north of national capital Juba.
"We withdrew from Bentiu, but it was to avoid fighting in the streets and save civilian lives. We fight on, we will continue the battle," Machar told AFP by phone from an undisclosed location.
A rebel military spokesman claims some oil infrastructure near Bentiu are still currently under rebel control.
South Sudan's crude production, a key source of income for the impoverished nation, has dropped by around a fifth since the fighting began.
An AFP reporter in Minkammen, across the White Nile from Bor where tens of thousands of people have sought refuge, saw dozens of government soldiers boarding barges and heading to the front line.
Fighting began on December 15th last year in South Sudan, following clashes between different army units. The fighting spread rapidly with government troops conducting battles against breakaway soldiers and ethnic militiamen loosely allied to Machar.
The conflict has also sparked a sharp upsurge in ethnic violence between members of President Kiir's majority Dinka tribe against Machar's Nuer community.
The East African regional bloc IGAD has been hosting ceasefire talks in a luxury hotel in the Ethiopian capital Addis Ababa, trying to get the two sides to agree to a ceasefire.
But Machar has demanded that 11 of his allies who were arrested by the government when the fighting started be released before he agrees to a truce.
Photo: Civilians fleeing violence in Bor last week. (AFP/Isaac Kasamani)