Voting for New President underway in Puntland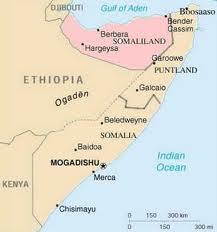 Lawmakers in Somalia's semi-autonomous Puntland region on Wednesday started voting for a new president amid tight security, officials said.
The lawmakers — 65 men and one woman — were appointed by clan elders at the very end of next year.
All 11 candidates in this poverty-stricken region, that forms the tip of the Horn of Africa and makes up around a third of Somalia's territory, swore to respect the result of the poll.
"I committed to fully abide by the outcome of the election for the Puntland presidency and my fellow candidates did likewise," Abdiwali Ali Gaas, a former Somali prime minister told AFP.
The Puntland authorities are taking no chances with security. Roads into the capital Garowe have been closed since Tuesday evening and the area round the parliament building is closed even to pedestrians.
In early December a car bomb in Puntland's main port Bosaso, which lies on the Gulf of Aden, left at least 11 dead.
Al-Qaeda linked Shebab insurgents operate from the rugged Golis mountains southwest of Bosaso, a lawless region under longtime control of warlord, arms dealer and Shebab ally Mohamed Said Atom, who is under UN Security Council sanctions for "kidnapping, piracy and terrorism."
Shebab fighters have in the past launched attacks on military bases near Bosaso.
Six out of the 17 people who were initially candidates dropped out, many of them discouraged by a non-refundable inscription fee of 10,000 dollars.
Observers said that the fact all 11 remaining candidates are from the Majerten, itself a sub-clan of the regionally dominant Darood group, would increase the chances of the poll going ahead peacefully and the result being accepted.