UK Offers $1 Million to Ethiopian Migrants Returning from Saudi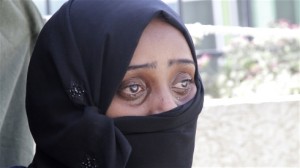 The British government has contributed $1 million to the Humanitarian Response Fund (HRF) and Central Emergency Response Fund (CERP) of the International Organization of Migration (IOM) set up to help Ethiopian migrant workers deported from the Kingdom of Saudi Arabia.
The UK is the biggest contributor thus far, but at just $3.7 million, the IOM is still far short of the required funding to rehabilitate returnees, which is estimated at $15.6.
On Thursday Dec. 12th, Greg Dorey, UK's Ambassador to Ethiopia, visited the temporary reception center accommodating deportees from Saudi Arabia at Bole International Airport,according to Addis Standard.
"Today I was able to witness first-hand the enormous challenge the Government of Ethiopia is undertaking to try and help the extraordinary numbers of people who have returned from Saudi Arabia over the past few weeks," Ambassador Dorey said, adding, "I am full of praise for the work of the International Organization for Migration and others in trying to deal with this massive problem."
The Ambassador toured the reception center and spoke with some of the returnees. He was briefed by high level officials of the International Organization of Migration (IOM) and local staff coordinating the reception center about its operations and the well-being of returnees.
"We are extremely concerned about the welfare of the returnees, which is why the UK has contributed nearly $1million to the IOM through pooled humanitarian funds as part of the international support effort," said Ambassador Dorey.
He also promised that his government will "be looking at other ways" in which the UK can help the Ethiopian government and the returnees. "We encourage other donors to do all they can to plug the funding gap which exists."

Returnees have come back empty-handed
When Mohamed Yusuf left his home town in Ethiopia for Saudi Arabia a year ago at the age of 17, he thought life would change for the better. Instead, a difficult and unprofitable stay in Saudi Arabia ended when he was among the nearly 137,000 undocumented Ethiopian migrants deported by the Saudi authorities.
"At first, I thought I was going to change my life and those of my father and mother, who paid for the whole trip out of their meager income," said Yusuf, whose father is a farmer in northern Ethiopia. However, the grueling journey to Saudi Arabia and his stay there had been harrowing experiences, he told IRIN.
During the long trek through Ethiopia's northeastern Afar Desert to Djibouti on the Red Sea, he endured hunger and thirst and had to bury some of his friends, who perished along the way. On reaching Djibouti, he paid smugglers 5,000 Ethiopian Birr (US$261) to take him from Obock, on Djibouti's northern coast, across the Gulf of Aden to Yemen. From there he made his way to Saudi Arabia.
The majority of male migrants from Ethiopia follow similar routes when crossing into Saudi and mostly depart from Obock, although many also leave from Somaliland. Female migrants usually enter as domestic workers under Saudi Arabia's 'kafala' (sponsorship) system.
Human rights groups say the system creates conditions for abuse, including rules requiring workers to obtain permission from their employer to change jobs. Those who do so without permission are considered undocumented and were among those rounded up during the government's crackdown on foreign workers, which started in early November 2013.
Initially, Yusuf found work as a shepherd in a rural area of Saudi Arabia, but decided to leave after two months because his employers refused to pay him the 800 Saudi Arabian riyals ($213) they owed him. "One day I decided to quit my job and fled to the city of Jeddah. And that was when I got captured by the police and put into prison for five months before coming here like this with many Ethiopians," he told IRIN.
There was no opportunity to earn back the cost of getting there, let alone fulfill his dream of a better life. "I'm confused and do not have any idea what I'm going to do next," he told IRIN. "One thing is for sure, I will never go back to that country after seeing and hearing what is happening to Ethiopians there."
Number of returnees still rising
According to Human Rights Watch and testimony from returnees, during the crackdown, Ethiopian migrant workers were subjected to beatings by Saudi police and citizens that resulted in at least three deaths.
Another returnee, Kidane Gebre, told IRIN: "After hearing this, my mother will be terrified and waiting for me anxiously. Many people from my home town were victims of this violence."
Many of those rounded up were held in makeshift detention centers without adequate food or shelter while they awaited repatriation.
The Ethiopian government initially estimated that some 30,000 undocumented citizens were being detained and would need to be repatriated, but as of the 16th of  December the number of returnees had reached 136,946. Of these, 84,721 were men, 45,157 women and 7,068 children.
Up until last week, over 7,000 were arriving every day, but according to the International Organization for Migration (IOM), the number has now slowed to about 1,000 a day. A further 35,000 migrants are still expected, according to IOM.