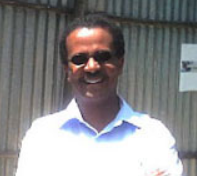 Several human rights groups across the world are calling for the release of Ethiopian journalist Eskinder Nega, who is currently serving an 18-year sentence at Kaliti prison.
Mr. Nega (aged 45) has been jailed about 7 times since 2005 by the Ethiopian government. Currently, he is being held on 4 charges which includes terrorism, treason, instigating an armed conspiracy and violation of the Ethiopian constitution–under the country's much criticized Anti-Terrorism Law.
These charges were brought against Mr. Nega after he published an article criticizing the government's arrest of several prominent members of the Ethiopian society for terrorism. Eventually, Mr. Nega was linked to the opposition Ginbot 7 party, which is on the government's terror list.
While the prosecution argues Mr. Nega was camouflaging his insurrectional commentary under the guise of free speech. Supporters of Mr. Nega say his crime was expressing views held by many Ethiopians in a very peaceful and pragmatic manner.
Birtukan Mideksa, a former colleague of Mr. Nega in his now defunct Satenaw publication, explained to Amnesty International's Wire that "He didn't just start activism with just criticizing the government. He always gave them the benefit of the doubt. He was relentlessly committed to expressing his views, his ideas."
Birtukan, who was also in prison with Mr. Nega, revealed the degrading conditions the journalist has had to endure, along with his wife Serkalem Fasil, who has since been released. Birtukan also revealed that Mr. Nega and Serkalem had their first child, Nafkot, while serving their sentence.
Pundits say Mr. Nega is not the only journalist or public figure to be incarcerated by the government on questionable charges. An unidentified commentator explained that Mr.Nega's case is "symbolic for the state of activism and free speech in Ethiopia." Since the country enacted its Anti-Terrorism Laws, several journalists, politicians and other public figures have been thrown behind bars, sometimes without any charge being brought against them for months.
Mr. Nega's opposition to the government goes back to 1993, when he created his first publication Ethiopis, which was shut down by the Zelawi government. After his arrest and the closing of his newest publication Satenaw, the Ethiopian government also revoked Mr. Nega's license to practice. However, several of his works have been published online.
Several pundits have noted that Mr. Nega's case is set to test the consistency of Ethiopia's judicial framework.
Meanwhile many of his supporters hold on to these his words published a few days before his arrest, with hopes that it forebodes the path of his case. "Freedom is partial to no race. Freedom has no religion. Freedom favors no ethnicity. Freedom discriminates not between rich and poor countries. Inevitably freedom will overwhelm Ethiopia."
Photo: Mr Eskinder Nega [Ethiomedia]