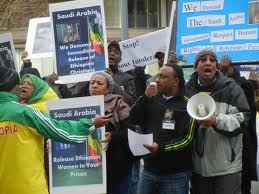 There has been growing anger among Ethiopians about the way their compatriots have been treated in Saudi Arabia.
Saudi authorities say all illegal immigrants were given eight months to get proper documentation and put forward their case for staying – a move which was widely publicized and done in co-ordination with the diplomatic representatives of the various nationals affected.
Things came to a head following an ultimatum for illegal migrant workers to leave the country. There were clashes in the Saudi capital, Riyadh, which led to several deaths last week.
Saudi authorities revealed on Monday, as Ethiopians held demonstrations at Saudi embassies around the world, that those deported were welcome to reapply to enter the kingdom legally.
Andrew Theen of The Oregonian has reported that several dozen people had marched through downtown Portland and the South Park Blocks Monday to protest against Saudi Arabia's violent crackdown on Ethiopian workers in the Middle Eastern kingdom.
Men, women and children marched down Southwest Broadway carrying signs and chanting during the noon hour. Many wore black t-shirts with a large red hand reading "Stop violence against Ethiopians in Saudi Arabia."
Protesters spread the word of Monday's march through a Facebook page and at Ethiopian restaurants and other community institutions.
"We're just out here standing up for our people," Wienta Mebrahtu said. Mebrahtu said the issue of violence against foreign workers in Saudi Arabia has only become more visible in recent weeks.
In New Zealand, about 100 Ethiopians gathered in Auckland's Aotea Square this afternoon for a lunchtime rally to protest against Saudi Arabian "crimes" against Ethiopians.
Saudi authorities last week began a clampdown on illegal migrant workers which led to clashes in its capital, Riyadh, where at least five people have been killed.
"Ethiopians in Auckland hereby demand the immediate halt of the barbaric act in general, the killings, the gang-rape and mistreatment," a statement distributed at the protest said.
"We are shocked by the atrocities, cruelty, killings, rape and beatings of Ethiopian immigrants by Saudi security forces and police-backed thugs called shebab."
Ethiopia's Foreign Affairs Minister Tedros Adhanom had said that he had information that three Ethiopian citizens had been killed in the clashes.
But Saudi authorities said three Saudis were among the dead, along with two foreign nationals.
In another news, all Africa.com reported that Dr. Tedros Adhanom met with Ethiopian Inter-Religious Council on Wednesday to discuss the situation of Ethiopians in Saudi Arabia and the process of repatriation. The Minister welcomed the initiative taken by religious leaders to discuss the situation and to come up with ways of contributing to the national effort to assist.
Dr. Tedros has briefed the Council members on the situation facing Ethiopians in Saudi Arabia and on the work done by the government prior to the Saudi Arabia's decision to expel undocumented foreigners, leading up to the current repatriation operation.
It is to be remembered that the Ethiopian Foreign affairs minister had met with private sector representatives earlier to discuss the process of rehabilitation of repatriates from Saudi Arabia. As of Monday evening, the number who have been brought back has reached 36,288, but it is expected that between 50,000 and 80,000 have been living illegally in Saudi Arabia and will be repatriated.