Satellite Imagery Exposes Sudanese Military Offensive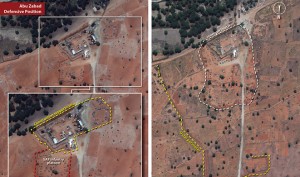 Satellite imagery has revealed evidence of an ongoing Sudanese military offensive against the Sudan Revolutionary Front (SRF).
Imagery from November 17, shows evidence of hostile attacks including four craters consistent with aerial bombardment in Abu Zabad, West Kordofan. There is also evidence of burning buildings and vehicles.
"Last month, our satellites detected the first signs of this Sudanese government offensive. Now, with these latest shots, we have proof of its destructive impact. We're going to keep watching and reporting to keep the spotlight on as bombs drop from the sky and villages burn once again," said George Clooney, co-founder of the Satellite Sentinel Project.
The military's air strikes and ground clashes pose a great danger to residents at a time when they are spending a lot of time in the fields harvesting their crops. Humanitarian aid workers are therefore calling for a better approach to end Sudan's protracted wars.
Recent images suggest that the fighting may have subsided although the country's armed forces are still deployed and positioned for attack.
In late October 2013, the Satellite Sentinel Project issued its first alert regarding the military's activity in the garrisons and other places in the country. Both El Obeid and Kadugli showed increased activity following deployment of scores of troops from Khartoum to various towns over the last two weeks.
Later in early November, Sudan's Defense Minister Abdel-Rahim Mohamed Hussein stated that his troops weren't going to stop until they had crushed the SRF.
There is an arrest warrant for Hussein from the International Criminal Court for alleged war crimes committed in Darfur between August 2003 and March 2004.
Earlier this month, the Sudanese government had agreed to a ceasefire to enable the UN carry out a long awaited Polio vaccination campaign. Experts fear that a critical window for the campaign has been lost and it may be a long time before either party agrees to another ceasefire.
Photo: Satellite image of the Sudanese military's position in Abu Zabad. [Enough Project]