Ophir Energy Sells Stake in Tanzania's Natural Gas Fields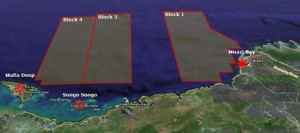 British oil explorer Ophir Energy has sold a 20 percent stake in three natural gas blocks off Tanzania's coast to Singapore's state-owned Pavilion Energy Pte. Ltd for $1.3 billion.
This is the first major deal in Tanzania's natural-gas sector and it is expected to set the pace for similar transactions in the future.
Speaking regarding the deal, Ophir Chief Executive Nick Cooper said "The sale is consistent with our strategy of adding value in the exploration and appraisal phase." The company announced in March that it was looking to bring in partners to its fields and has since received attention from several Chinese, Indian and Thai state-run companies that are eager to acquire long-term assets in natural-gas.
Ophir also revealed that it is in talks with Indian state-run gas company GAIL which is eager to acquire between 10 and 30 percent stake in five natural gas blocks on the Tanzanian coast. GAIL however declined to comment on the deal.
Ophir and partner BG Group hold 15 trillion cubic feet of gas in the Tanzanian coast. The two intend to construct a liquefied-natural-gas plant on the Tanzanian coast to ship the fuel to Asia at a cost of approximately $10 billion. Ophir is looking to bring in deep-pocketed partners to help finance this exploitation.
This deal is Pavilion Energy's first overseas investment in upstream energy assets and is part of it's parent company's efforts to increase its holdings in the energy sector. "The natural-gas developments in Tanzania hold tremendous potential—not just for Pavilion Energy, but for Singapore and Asia," Pavilion said regarding the deal. Singapore currently imports the bulk of its natural gas from neighbors Malaysia and Indonesia. About 85% of Singapore's electricity is generated from gas.
Several Asian nations have acquired stakes worth billions of dollars in East Africa's energy sector over the past 18 months. China National Petroleum Corp recently bought 20% of Italy's Eni SpA's license in Mozambique while India's Oil & Natural Gas Corp purchased 10% of U.S. Company Anadarko Petroleum Corp's Mozambique license.