Nigeria's Super Eagles Set Sight on 2014 World Cup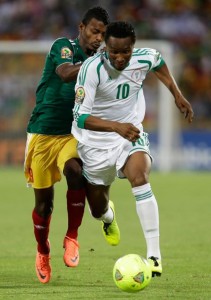 Ahead of the 2nd leg playoff against the Walya Antelopes of Ethiopia, the Nigerian coach has expressed confidence that his team can win the 2014 World Cup, due to be held in Brazil.
In a meeting with the press yesterday Stephen Keshi explained, without underrating his team's opponents on Saturday, that he thought the Super Eagles have a chance of winning the World Cup, adding that "everything is possible in football."
Under Keshi, the Super Eagles have made a transformation from being an under-performing team to one of the most promising teams on the continent. The coach explained that this is the result of discipline, open lines of communication and the support he receives from his coaching staff.
"The real secret for our successes are the players; my coaches; the assistant coaches, they are the ones that plot all the teams that we beat all the time," he revealed.
"Maybe my assistant coaches and I are the best indigenous coaches Nigeria's football has ever had," he added.
The Super Eagles successfully beat the Walya Antelopes of Ethiopia 2-1 a few weeks ago with two goals from striker Emmanuel Emenike.
Speaking to the press recently, Emenike revealed that he expects the second leg against the Walyas to be tougher than the first. However, he expressed optimism that his team can fend off the Walyas for a second time to book their 5th World Cup appearance.
Several players and officials from the Ethiopian Football Federation have also disclosed that they expect a tough game in Calabar, but the Ethiopian coach Sewnet Bishaw says his team is ready to battle "until the end."
The Ethiopian team is expected to make their way to Nigeria today in the company of their fans, ahead of the game on Saturday.
The Walyas are hoping to make their first appearance in the World Cup if they can beat Nigeria with a 2-goal margin in Calabar—a feat many football pundits say will not be easy to accomplish. Nonetheless, with the return of striker Getane Kebede, fans hope the Walyas can pull a surprise.
Meanwhile, the Super Eagles have announced that they will be without Nosa Igiebor and Uche Nwofor for this clash. Reports indicate that Toronto FC forward Bright Dike has been brought in to replace Nwofor, but Keshi revealed it is too late to replace Igiebor.
Following the headline grabbing performance of the Super Eagles to earn the title of Africa's champions in South Africa, Keshi disclosed that he has received offers from other teams with a promise to triple his current pay. But the ex-Super Eagles defender says he remains loyal to the team despite the rows he has had with the Nigerian Football Federation recently.
Photo by Armando Franca/AP