Djibouti's USN Requests Independent Mediators from AU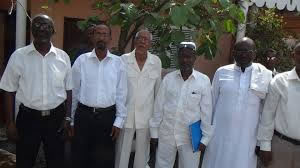 The Union for National Salvation (USN), a coalition of Djibouti's opposition parties, have disclosed that they sent a delegation to the African Union (AU) to request for independent mediators to settle the disagreements they have with the ruling Union for the Presidential Majority (UMP).
According to Abdirahman Mohamed Gelle, a member of the USN, the delegation spent 3 weeks at the AU headquarters in Addis Ababa, where they met with AU officials and revealed their plans.
The two main parties in Djibouti have been at a deadlock following disputed parliamentary elections in February. Although the opposition USN claims it won the poll, the leading UMP were officially declared victors. For several months, both parties have attempted to bridge this division and move on, but both sides accuse one other of sabotaging the reconciliation efforts.
Last Month, President Ismail Omar Guelleh said internal divisions in the opposition is preventing them from entering into dialogue with his party. He added that the USN needs to put the nation's interest before theirs.
However, members of the USN deny the President's analysis. The Party had requested the release of all its members jailed by the government as a pre-condition for the negotiations. The Party is also requesting for the disputed parliamentary elections to be staged again.
But the government has not accepted these requests. Officials have since remarked that it will be unconstitutional for the President to grant the opposition's requests, since it is not in his power to do so.
Members of the USN have expressed hope the AU will deploy mediators to finally settle the differences between them and their political rivals the UMP.
Meanwhile, neither the AU nor the Djibouti government have officially made any comments on the recent development.
Source: SomaliCurrent