UNHCR, Kenya & Somalia Sign Agreement to Repatriate Somali Refugees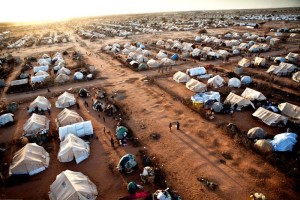 The United Nations High Commissioner for Refugees (UNHCR) and the governments of Kenya and Somalia have signed an agreement to facilitate the repatriation of approximately 500,000 Somali refugees.
The three party agreement signed on Sunday categorically states that the refugees will be allowed to voluntarily decide to return home.
With the signing of the agreement, a repatriation commission is to be created which will develop a plan for the return of the refugees within three years.
The deal has allayed fears of revenge attacks and forced repatriations of Somali refugees after September's deadly attack on the Westgate mall by the Somali based terrorist group Al-Shabaab.
Kenya's Deputy President William Ruto, who was present at the signing, said "it's not the tradition for an African country to complain about visitors, especially those fleeing from danger.
"Even so, the large number of undocumented refugees, as well as the sheer magnitude of the entire refugee burden has created unprecedented security challenges for Kenya," he added.
Dadaab and Kakuma camps, where most of the refugees are reported to reside, are noted to be rickety settlements sprawling across several miles. Dabaad is officially recognized as the largest refugee camp in the world—close to 500,000 Somali refugees reside there. The Kenyan government have since expressed fears that these camps are being used as shelter by terrorists for recruiting and training new members.
Somalia's Deputy Prime Minister and Foreign Minister, Fowsia Yusuf Adam, who represented her country at the ceremony, expressed gratitude on behalf of the government and people of Somalia to Kenya. She said her country had already started making plans to safely welcome her citizens back home.
"Terrorism is still a major threat to our region. The Federal Republic of Somalia is committed to creating conditions that will allow for the safe and dignified voluntary repatriation of the Somali refugees in Kenya and other neighboring countries," the Minster added.
The UNHCR is reported to have officially registered 493,000 Somali refugees living in Kenya, however the Kenyan government speculate the figure is twice as much.
Kenya's UNHCR representative, Raouf Mazou commented that the process of repatriation must be carried out safely and with dignity
"It is very important to underline that no one is forcing the refugees to leave Kenya, The government and people of Kenya have tirelessly provided protection and assistance to Somali refugees for two decades. The agreement we signed Sunday does not mean Kenya is no longer willing to do so.
"Any refugee has the right to choose whether to go home, after they have been given information about conditions on the ground in Somalia so they can make an informed decision," he said.
Thousands of Somali refugees fled to Kenya from the protracted war and ensuing poverty that plagued their country. Many of the refugees are reported to have arrived in Kenya in 1991 after the collapse of the Somali Central government, a large percentage of them confess to not have not been home since then. Many Somali children have been born in Kenya and have never seen their homeland.
Some pundits say although the scheme is commendable, three years may be too short to see the registration and transfer of reportedly one million Somali refugees—most of whom may not be immediately willing to comply with the authorities or go home now.
Despite Al Shabab's audacious escapades in the past few years, AMISOM troops and Somali authorities have been able to limit the terrorist group's field of operation to only Central and Southern Somalia.
Photo by UNHCR