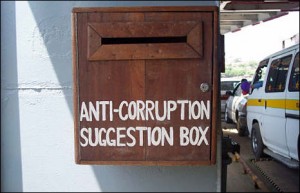 The Kenyan Strategic Digital Communications Unit have launched a website to allow citizens report instances of corruption directly to President Uhuru Kenyatta.
The revolutionary website allows people to anonymously report cases of corruption along with documents like videos, audio recordings and other incriminating materials as evidence.
This move is seen as part of the government's efforts to curb widespread corruption in the administration and improve the country's reputation.
Recently, human-rights group Transparency International revealed that many Kenyans choose not to report when they encounter corrupt officials because it is believed their complaints will be ignored. The human rights group ranks Kenya 139th out of 176 countries on its global corruption perception index.
State House Spokesperson Monoah Esipisu has commended the government's initiative. He described it as a clear example of President Uhuru's tough stand on corruption and other official malpractices. "The president is committed to a clean government and this site advances his intentions to act strongly against corruption," he said.
This digital assault on corruption also sees Kenyan authorities set up an SMS code (33000) to enable people send complaints via text message directly to the head of state.
Kenya, like many African countries, has struggled with widespread corruption and this decadent culture is thought to be a major impediment to economic and social progress. Although offering and collecting bribe is considered a crime under the laws of Kenya, the practice has steadily increased.
Last year, Kenyan activist Anthony Ragui set up a website – similar to the government's – to tackle corruption in the East African nation. The 'I Paid a Bribe' website has over three-thousand accounts of outrageous demands made by corrupt officials seeking bribes as well as schemes people use to outsmart them. The website also has some inspiring stories of honest officials who refused to be bribed.
According to a tweet on the President's Twitter account, Kenyans have already started reporting corrupt officials through the website. Pundits believe more people will be motivated to report corruption once they are convinced their reports will be taken seriously.
The Strategic Digital Communications Unit is expected to reveal a draft social media policy for the public service soon. This policy is expected to regulate all Kenyan official communication on the internet.