Ethiopian Defense College of Health Sciences graduates 26 MDs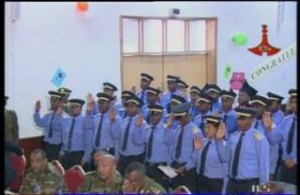 The Ethiopian Defense College of Health Sciences graduated 26 medical doctors on Saturday in Addis Ababa.
Minister of National Defense, Siraj Fegesa, speaking at the graduation ceremony said the Ministry has given prime attention to human resource development which can speed up the nation's development.
He said the Ministry has been undertaking various measures to build the capacity of its institutions and create a modern defense army.
The Minister added that the training being given in more than 20 defense training institutions is contributing to the nation's growth and transformation.
He expressed his belief that the graduates are well-equipped to ensure the well-being of the defense army,  to also properly apply the prevention oriented health policy of the nation and increase the awareness of the community on health matters.
Alemu Tesfahun, Education and Training Directorate acting director with the College, said the graduates have attended theoretical and practical training in various institutions for four years.
College Dean, Siyoum Kassa, stated that the college is set to launch a degree program in midwifery which will contribute to reducing maternal mortality in the country.
The graduates for their part vowed to serve the community at their level best.
Currently, the Defense College of Health Sciences is giving training for 30 students in MD and is expected to enroll 22 additional students in the near future. The college had graduated its first batch of 25 MDs two years ago. Only one of the graduates this yer is a female.
Source: ERTA