Al-Shabaab Not a Threat to Ethiopia's Security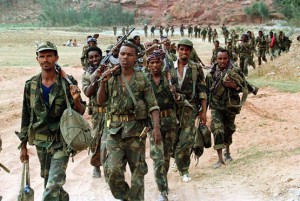 The Spokesperson of Ethiopia's foreign ministry, Ambassador Dina Mufti, said on Wednesday last week that Somali-Based islamist militant group did not pose any imminent threat to Ethiopia's security.
He acknowledged that Al-Shabaab had posed a threat to regional peace but stated that Ethiopia's defence force and intelligence service was capable of defending the nation.
"There is no reason for the public to be worried," he added dismissing concerns from the opposition that Ethiopia could be next on Al-Shabaab's list of targets.
He further stated that Ethiopian troops would remain in Somalia until Al-Shabaab had been weakened and Sustainable peace and security achieved in the Horn of Africa country.
Ambassador Dina stressed that member states of the Intergovernmental Authority on Development needed to work together to curtail terrorist attacks.
Foreign Minister, Dr. Tedros Adhanom, had earlier stated that being the current chair of the African Union, Ethiopia was "committed to play a leading role in coordinating other African countries in the fight against terrorism."
He said this while sending a message of condolence to the government and citizens of Kenya over the Westgate Mall attack which left 72 people dead and hundreds others injured. He also offered to support the Kenyan government in the hunt for the perpetrators of the Attack.