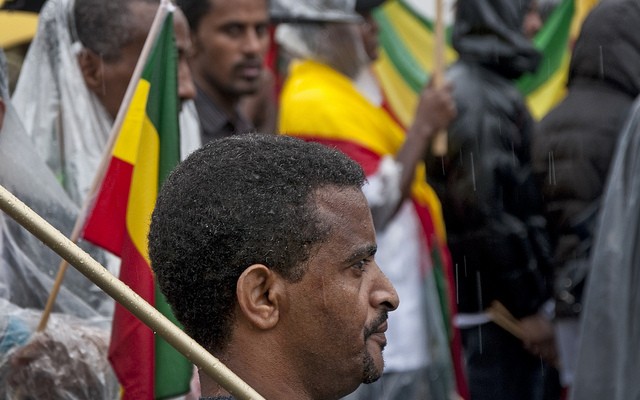 Thousands of Amhara People Protest Against Ethiopian Government's Policies in Gondar
Thousands of people in Gondar, a city in Ethiopia's Amhara region, gathered on Sunday to protest against a government decision to place an Amhara district under the administrative jurisdiction of Tigray, a neighboring region.
The protesters, who allegedly numbered over 10,000 also demanded that the country's wealth is distributed justly, Africa News reported.
The Amhara people are the second largest ethnic group in Ethiopia after the Oromo, who last year protested against a government land expansion policy.
The Amhara protesters carried flags, placards, and banners expressing support for other groups who recently took to the streets in Ethiopia, BBC reports.
Images of the protests have since been shared on social media, Facebook and Twitter with hashtags #GonderProtests and #AmharaProtests.
The protest, which has so far been peaceful, comes after violent unrest rocked Gondar last month.
About a dozen people, including civilians and security forces, have been killed in the violent demonstrations.
The unrest began after demands that the Welkait community, which was recently placed under the Tigray region, be returned to the Amhara region, Indian Express reported.
The violent demonstrations led the U.S. government to issue a temporary travel ban to Gondar. The U.S. Embassy in Ethiopia issued the temporary travel restriction warning its citizens living in Gondar and those traveling there to be careful.
The statement called on Americans to assess their personal safety and avoid large crowds and the ongoing protests.
Despite the fears, Sunday's protest was peaceful and not incidents were reported.
The government of the Amhara region has reportedly said the demands of the protesters would be addressed.
[Photo by Eric Parker/CC BY-NC 2.0]