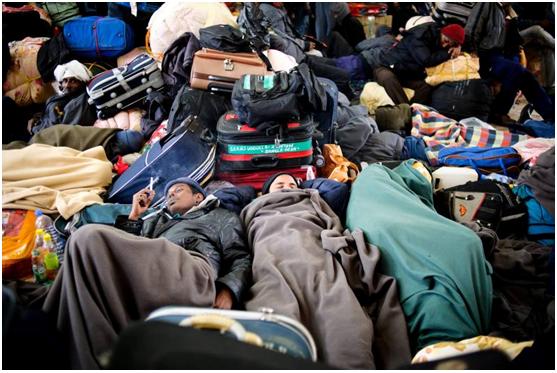 Ethiopian Woman Burnt to Death in Front of Egypt's UNHCR Building During Protests Over Asylum
An Ethiopian seeking asylum in Egypt has been burnt to death after attempting to help a man who set himself ablaze in front of a United Nations High Commissioner for Refugees (UNHCR) building in Cairo during a protest.
The protest was organized this week by the Oromo refugee community in Cairo, Daily News Egypt reported.
The protesters had reportedly gathered to demand recognition and fair treatment from the UNHCR regarding their rights to seek asylum when the incident occurred.
The details of the fatal incident remain unclear. However, the UNHCR released a statement on Wednesday paying tribute to an Oromo woman protester who died during a "violent incident."
The report did not specify exactly how the woman died, and if she was the only victim. The deceased, whose identity has not been released, is said to be a mother of two small children.
"UNHCR deeply regrets the tragic passing of an Ethiopian Oromo asylum seeker on 26 July 2016, following a violent incident outside UNHCR office in Cairo," the tribute read. "UNHCR is mindful of the frustrations and anxieties that asylum seekers and refugees may feel because of lengthy procedures, due to the high number of applicants in Egypt."
"As the UNHCR is committed to ensuring fair, consistent and transparent processes for asylum-seekers and refugees of all nationalities, it calls for the cooperation of all refugee communities and appeals for their understanding and non-violence," the statement added.
Ethiopia's Embassy in Cairo and Egypt's Ministry of Interior have not yet commented on the incident.
However, the tragic incident has led the UNHCR to temporarily close its main office in Egypt, where the protest occurred.
An amateur video being spread online by the Oromo refugee community in Cairo shows a group of protesters trying to help the man who reportedly set himself ablaze. Egyptian police officers were seen in the video.
This protest is not the first that members of the Oromo refugee community have held in front of the UNHCR building.
Egypt was reportedly host to about 180,000 refugees from Ethiopia, Eritrea, Sudan, Syria and Iraq as of December last year.
Asylum seekers in Egypt allegedly have to wait for months and even years for their requests to processed. The UNHCR has the sole responsibility of determining which people are given the refugee status in Egypt.
[Photo by Ministry of Foreign Affairs of the Republic of Poland/CC BY-ND 2.0]