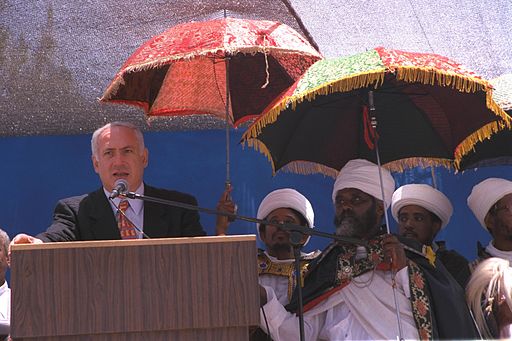 Ethiopian Prime Minister Supports Israel's Bid for African Union (AU) Observer Position
Ethiopia has announced its support for Israel's bid to become an "observer" in the African Union (AU) during Prime Minister Benjamin Netanyahu's visit to the East African country on the last leg of his four-nation African tour.
"Israel is working very hard in many African countries. There is no reason to deny this observer position to Israel," Ethiopia's Prime Minister Hailemariam Desalegn said on Thursday.
The AU, which is headquartered in Ethiopia's capital Addis Ababa, grants observer status to some non-African countries. These observer states would follow the proceedings of the AU, and can address the 54-member state organization during meetings.
Israel has never held the position since the AU was founded in 2002. However, Israel has served as an observer to the OAU, the AU's forerunner.
Palestine, which has been an AU observer since 2013, has used the platform to gather diplomatic support for its cause in the long-running conflict with Israel, Aljazeera reported.
The relations between Israel and several Africa countries became sour in the 1960s during the Arab-Israeli conflict. Israel's support for South Africa's apartheid regime also caused a dent in its diplomatic relations with many sub-Saharan countries.
Netanyahu said during his visit to Uganda, Kenya, and Rwanda that Israel considers Africa as a major strategic partner.
"All African countries can benefit from renewed cooperation with Israel," Netanyahu said. "Israel is coming back to Africa."
Netanyahu, who praised Ethiopia and Africa's economic development, took a 70-member Israeli business delegation on his African tour.
"For too long Africa was treated like an afterthought by much of the world. Many focused on its problems, few saw its opportunities. No longer. We are clearly seeing Ethiopia's potential and Africa's potential," Netanyahu said.
Netanyahu also expressed pride at the contributions of Ethiopian Jews to Israeli society. He described Ethiopian Jews as Israel's link to Ethiopia and Africa.
His comments regarding Ethiopian-Jews comes days after about 17 people were reportedly arrested in Tel Aviv during a protest against Israeli police brutality targeting Ethiopian Jews.
Photo: Amos Ben Gershom/Flickr