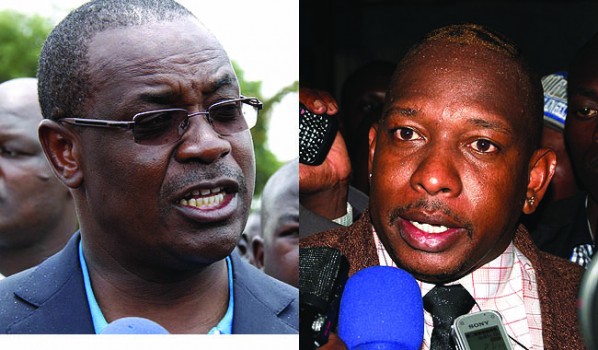 Kenyan Politicians Exchange Punches During Inquiry Into Misappropriation of Funds
The Governor and the Senator of Kenya's capital, Nairobi, engaged in a fist fight after a heated argument during a Senate Public Accounts Committee session on Wednesday.
The altercation reportedly began after Senator Mike Sonko accused Governor Evans Kidero of murder.
The incident, which quickly escalated, forced the committee to adjourn the session indefinitely.
Kidero was being questioned about misappropriation of funds during the 2013/14 financial year.
The altercation started after Sen. Sonko presented the committee with documents about illegal land rates in Nairobi. He reportedly became agitated after the panel dismissed his claims as "extraneous."
After the documents were dismissal, the senator is said to have banged on the tables and accused Kidero of murdering a woman in Nairobi.
Sonko claims the woman, who Kidero and his Chief of Staff George Wainaina killed, was also ejected from her property worth 2 billion Kenyan Shillings ($20 million).
To prove his accusation, Sonko presented another document which allegedly showed the transfer of the building. However, the committee also dismissed the report.
"He is murderer and I cannot withdraw that. I have video clips to prove that I have no apologies to make," Sonko said.
A brawl broke out between the senator and the governor after the after the latter's remarks.
Soon after the scuffle was brought under control, Kidero walked out of the session. He informed the committee that he will return to answer their questions in a more conducive environment.
According to the BBC, Kidero has denied being punched by the senator. He claims to have blocked Sonko's punch before it touched him.
"He never hit me. I just blocked his hand," Kidero said.
The governor also dismissed the murder accusations Sonko made against him as "frivolous."
Local sources say Kidero and Sonko, who are known not to get along, have a history of publicly trading accusations.
Photo/Border Media Group: Nairobi Governor Evans Kidero (L) and Nairobi Senator Mike Sonko (R).