Debris From Missing EgyptAir Flight 804 Found in Alexandria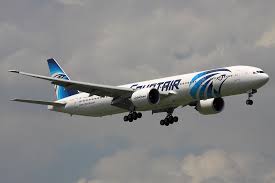 Debris from EgyptAir Flight 804 has been found in Alexandria on Friday. The Airbus 320, which was heading to Cairo from Paris, crashed into the Mediterranean with 56 passengers and ten crew members aboard.
The items which were reportedly found by Egyptian air and naval forces include parts of the plane and items belonging to passengers.
Egyptian Army spokesman Brig. Gen Mohammed Samir said in a Facebook post that the wreckage was discovered about 180 miles, north of Alexandria.
"The searching, sweeping and the retrieval process is underway," Samir added.
The debris would be examined by a team of investigators from Egypt, France, and Britain.
A group of five countries have joined Egypt's search efforts. Officials are reportedly searching a wide area in Crete for the plane's wreckage.
The plane left Paris' Charles de Gaulle Airport on Wednesday night. It reportedly went missing on Thursday morning while crossing the Mediterranean Sea.
Greece's Aviation Authority said air controllers tried unsuccessfully to connect with the pilots before the aircraft left Greek airspace.
According to the Egyptian military, there were no distress calls from the pilots of the aircraft before it went off the radar.
The Airbus reportedly swerved and then plunged from 37,000 feet to 10,000 feet. The fall reportedly happened just after the plane entered Egypt's airspace.
There are fears that the plane crash may be the result of a terror attack. Egypt's aviation minister Sherif Fathi said the chances that the plane was downed by a terror plot is "higher than the possibility of a technical failure."
However, French officials say the exact cause of the crash is yet to be asserted.
"All assumptions are reviewed but none is favored," France's Foreign Minster Jean-Marc Ayrault said. "We have absolutely no indication of the cause of this event."
EgyptAir and the Egyptian presidency have since expressed condolences to the families and friends of the people aboard flight MS804.
About 30 of the passengers were Egyptians, 15 were from France. There were also passengers from Angola, Britain, Belgium, Chad, Canada, Kuwait, Iraq, Saudi Arabia, Portugal, and Sudan.