Kenya and Tanzania in Diplomatic Spat Over 74 Ethiopian Ex-Convicts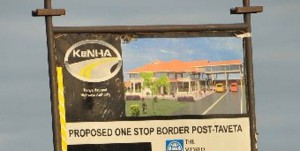 Kenya has condemned Tanzania's decision to drop-off 74 Ethiopian ex-convicts at the Kenyan side of the Taveta border.
Tanzania reportedly transported the Ethiopians, who had finished their prison terms in the country, to the border early Tuesday morning.
Kenyan immigration officials condemned the move and threatened to return the Ethiopians back to Tanzania.
"Tanzania authorities should have repatriated the foreigners to their country of the origin instead of dumping them in Kenya. We will take them back to Tanzania," Henry Wafula, Taveta Deputy County Commissioner said. "Police and Immigration officials have been directed not to allow the foreigners to enter the country. They will be taken back to Tanzania where they came from. The incident is unacceptable and not allowed in law."
Kenyan immigration officials argue that it is Tanzania's duty under international law to organize the return of the ex-convicts to Ethiopia.
The current fate of the Ethiopian ex-convicts is unclear. However, reports indicate that the Ethiopians were still stranded between borders as at mid-Tuesday.
Ethiopia's embassy in Tanzania is yet to officially respond to the incident.
Kenyan police have intensified their efforts to arrest and deport the illegal immigrants since the beginning of the year. Several illegal immigrants from numerous African countries (including Ethiopia) have been arrested.
Photo: Business Daily Africa