Ethiopian Airlines Nose Gear Collapse Accident Caused by Human Error: Investigations Reveals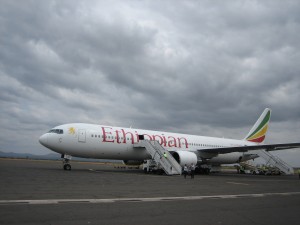 An investigation to discover why the nose gear of an Ethiopian Airlines Boeing 787-800 aircraft collapsed before takeoff last week, has revealed that the accident was caused by human error.
According to AIN, the accident was caused by technical failures. The flight, which was heading to Rome's Fiumicino Airport from Addis Ababa, broke down moments before it took off after its nose gear collapsed.
The incident left a flight attendant injured. All the passengers aboard the plane reportedly escaped unscathed.
An inquiry by the Ethiopian Civil Aviation Authority (ECAA) and the International Bureau has revealed that the incident was caused by a technical malfunction likely due to human error.
The investigation into the accident that left the plane severely damaged involved interviews with the entire flight crew. The technicians, who serviced the plane before flight, were also interviewed.
Although the cause of the accident has been discovered, it will take officials about two weeks for the investigation to be summarized.
Ethiopian Airlines is yet to make an official statement concerning the incident.
However, reports indicate that the maintenance department of the multiple-award winning airliner is conducting its own investigation into the incident.  Boeing, which has a field office in Addis Ababa, is also investigating the incident.
Ethiopian Airlines is one of the fastest growing airlines in Africa with an average annual growth rate of 25 percent in the past seven years.  In 2012, the state-owned airliner became the first in the continent to purchase a Boeing 787 Dreamliner.
The airline, which covers the globe with about 92 destinations in five continents, currently has 13 Boeing 787 Dreamliner aircrafts among its fleet. The company has reportedly ordered two Boeing 787-9 planes.