Ethiopia Ordered to Pay $150,000 Compensation to Girl Abducted and Raped 15 Years Ago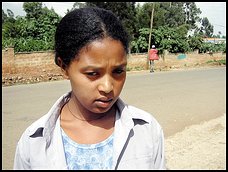 The African Commission on Human and People's Rights has ordered the Ethiopian government to pay $150,000 in compensation to a woman, who was raped 15 years ago.
According to international human rights group Equality Now, Woineshet Zebene Negash was just thirteen years old in 2001 when she was kidnapped from her home and raped.
Woineshet was later rescued. Aberew Jemma Negussie and a group of four men were arrested for abducting and raping her.
Reports indicate that weeks after their arrest, the men were released on bail. Negussie is said to have seized Woineshet again and hid her in his brother's house. She remained in the house for a month until she escaped.
According to the BBC, the victim was forced into signing a"marriage contract" with Negussie while being held against her will. The document, which was essentially her name scribbled on a piece of paper, would later be used against Woineshet in court.
In 2003, Negussie was sentenced to ten years in jail without parole for abduction and rape. His four accomplices were each sentenced to eight years in prison.
However, later that year, they were released after the case was dismissed by an Appeals Court. Reports indicate that all five perpetrators were freed on the ground that the victim was not a virgin when the incident occurred. However, the claim was never proven in court.
According to Equality Now, although Woineshet did not get the justice she deserved, her case was the catalyst that changed Ethiopia's Penal Code. In 2004, a change in Ethiopia's justice system saw the introduction of punishment for rapists – even though they married their victims. Firmer penalties were simultaneously introduced for rapists.
In 2007, Equality Now filed a complaint with the African Commission on Human and Peoples' Rights on Woineshet's behalf. Nine years after the complaint was filed, the African Commission has found Ethiopia guilty of not protecting Woineshet from violence.
Ethiopia was also charged with failing to provide a "decent system of justice."
The African Commission ruled that Woineshet, who is now in her twenties, should be compensated with $150,000. The ruling also asked Ethiopia to implement methods of dealing with marriages by abduction and rape.
It is unclear how the ruling would be enforced and the compensation paid to Woineshet. Ethiopian officials are yet to comment on the story.
Photo: Emily Wax/Washington Post