4 Ethiopian Soldiers, 3 Kenyan Police Officers Killed in Border Clash During OLF Hunt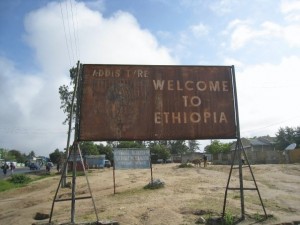 Tensions are high and border movements have been restricted after four Ethiopian soldiers and three Kenyan police officers were killed over the weekend in a gun battle. The incident, which could degenerate into a diplomatic row between the neighboring nations, happened in northern Marsabit County, Kenya on Friday, while Ethiopian soldiers were searching for members of a rebel group.
Ethiopian troops crossed into Kenyan territory in search of members of the Oromo Liberation Front (OLF), who killed an Ethiopian chief before fleeing. Three Kenyan police officers were killed after Ethiopian forces ambushed a village that the gunmen was thought to be hiding.
"The officers were in a police vehicle when they were attacked by the Ethiopian soldiers inside Kenya. Three are dead and several are missing," Xinhua reports.
After the incident, Ethiopian forces reportedly destroyed a Kenyan police vehicle and seized four firearms.
Ethiopia has reportedly crossed into Kenya several times this year in pursuit of OLF fighters.
Kenyan authorities have since taken possession of the bodies of the police officers over the weekend. Kenyan officials are seeking answers from Ethiopia about the incident.
"We want to know why they engaged our police yet we have never intruded into their territory," said Moffat Kangi, Marsabit County Commissioner. He added that Addis Ababa did not notify Nairobi about its intrusion into Kenyan territory.
Kenya deployed security forces to the Anona and parts off Sololo districts over the weekend. However, officials said they will try to solve the issue diplomatically.
Ethiopia has reportedly also deployed troops to its main border.
"All cross-border issues are supposed to be addressed at diplomatic level, hence we will be seeking an explanation from Ethiopia on why this happened," Kangi said.
The incident has left hundreds of Kenyan travellers and business people stranded in southern Ethiopia after the borders were closed Friday.
Marsabit AP Commandant Jackson Ng'ang'a said calm has been restored on the Kenya side although the tension is still high. He claims Kenya did not close its border with Ethiopia.
"Kenya's border with Ethiopia is still open and I am not aware whether they have closed theirs. But due to the tension there is no movement (between the two countries)."