Swedish Court Sentences Eritrean Asylum Seeker to Life in Prison for Fatally Stabbing Mother and Son after Receiving Deportation Letter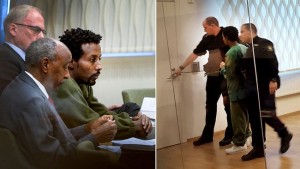 A Swedish District Court sentenced a 36-year-old Eritrean man to life in prison on Friday after finding him guilty of killing a mother and her son with kitchen knives at a mall earlier this year after his asylum application was denied.
On August 10th, Abraham Ukbagabir reportedly went to the Ikea mall in Vasteras, about 60 miles west of Stockholm, with an Eritrean friend "to meet God."
While at the Ikea's kitchenware section, Ukbagabir allegedly picked up two knives and randomly attacked a 55-year-old mother and her 28-year-old son. The victims both died on the scene.
After fatally stabbing the mother and son, Ukbagabir then stabbed himself in the stomach. He sustained serious injuries and was in a coma for several days.
Ukbagabir's case has stirred a debate on immigration in Sweden after investigators revealed that he killed the mother and son after receiving a deportation letter.
Reports indicate that two weeks before the fatal stabbings, Ukbagabir received a letter ordering him to return to Italy. The deportation order was issued in accordance with the Dublin convention, which requires people seeking asylum to process their applications in the first European Union (EU) country that they arrive in.
Judge Per Kjellsson found Ukbagabir to be of sound mind, thus his verdict. Ukbagabir claims he did not intend to kill the mother and son. He said he was very upset after he was told to leave Sweden, which he regarded as home.
"I used to regard Sweden as my country. The when I had this thought and got rejected I had to try to defend myself," Ukbagabir said through an interpreter.
"In light of how he carried out the criminal act, and his emotional state as he himself has described it, it is clear that he was completely indifferent as to whether or not his violence would lead to death for those two people he attacked," Judge Kjellsson said.
Ukbagabir would still face deportation after serving his sentence – in Sweden life sentences are commuted after 10 years in prison. Most life sentences reportedly last between 18 to 25 years.
Ukbagabir's friend, who was initially suspected of being an accomplice in the stabbing incident, has since been cleared of the charges.
Ukbagabir's lawyer Per-Ingvar Ekblad said he was disappointed with the court's ruling. "There is reason to assume that he has some kind of personality disorder. I assume that my client wants us to appeal the ruling," he said.
After the Ikea stabbing incident, police in Sweden increased their presence in asylum centers out of fear of retaliatory attacks targeting the Eritrean community.
The family of the victims in northern Sweden have stressed that they do not want the deaths of their relatives to be used as a "weapon" in the country's raging immigration debate.
"We have lost a beloved daughter and mother and a beloved son and brother. They were at the wrong place at the wrong time. This terrible incident has been used as a weapon in the media and we strongly distance ourselves from that. We do not want it to be used in the debate about immigration and integration," a statement from the family reads.
Photo: Ukbagabir in court. [TT/SVT]