700 Kenyans Resign from al-Shabaab, Return Home for Amnesty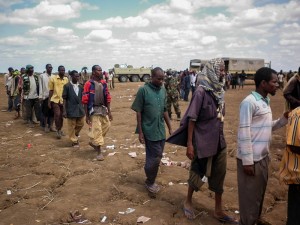 NAIROBI – About 700 Kenyans, who joined al-Shabaab and a faction of the Islamic State in neighboring Somalia, have defected and returned home, according to a recent government survey.
The Socio-economic and Survey Kenya was published this week by the Kenyan Interior ministry, the International Organization for Migration (IOM) and the Supreme Council of Kenyan Muslims.
Many of the recruits reportedly chose to return home after finding out that al Shabaab's promises of riches is not as profitable as they imagined. Others are believed to have made the decision after a government amnesty offer for Kenyans enlisted into local terrorist organizations. About 200 of the returnees are reportedly planning to apply for the amnesty, which the government announced earlier this year.
Reports indicate that many of the returnees – aged between 24 and 34 – sustained serious injuries on the battlefield. Several returned with amputated limbs as well as injuries to the head and other parts of their bodies.
Experts suggest that terrorist groups use younger recruits for dangerous and heavy combat missions, hence their injuries.
Kenya has been struggling with terrorist attacks from Somalia. The deadly intrusions have worsened with the rise of assaults from home-grown terrorists. In the most fatal attack yet, 149 people, mostly students, were killed at the Garissa University. Investigators have revealed that the deadly attack was masterminded by a former student of the University of Nairobi.
In a bid to quell the mounting terror threat, the Kenyan government has adopted several policies. Kenyan troops have been deployed to Somalia to fight the terrorists group in their home. The government has also created a de-radicalization policy, which attempts to prevent young Kenyans from being recruited into terror groups. Furthermore, Amnesty has been offered to Kenyans in terrorist groups who want to quit.
Kenyan youths are estimated to make up about 10 percent of al-Shabaab's troops. The Somali terrorist group is behind the 2013 West-Gate mall attack, which left hundreds dead in Nairobi.
According to the government survey, poverty and the promise of wealth lured the youngsters into joining the terrorist factions. Nearly thirty-three percent of the Kenyan youths recruited into terror groups were reportedly unemployed before joining.
The return of the 700 former recruits provides Kenya with challenges and opportunities. "On the one hand, they present an opportunity to counter the radicalizing ideologies and recruitment strategies of armed groups as they have chosen to withdraw and return home," the report highlights. There is, however, a possibility that the returnees may not be able to assimilate and get jobs. Critics have suggested that they could even attempt to launch terrorist attacks in the country.