Ethiopia eager to host Africa's foremost football tournament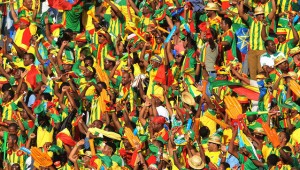 Ethiopian Prime Minister Hailemariam Desalegn has expressed optimism about the country's chances of winning the bid to host the 2017 Africa Cup of Nations (AFCON).
This past week, he assured the press of his government's support and preparedness to meet all of the Confederation of African Football's (CAF) requirements.
Ghana and Kenya have also expressed interest in hostin the tournament after Libya, the designated host gave up its rights, due to internal fighting and political turmoil.
The Kenyan Football Federation (KFF) has announced plans of placing a joint bid with one of its neighbors – either Rwanda, Uganda or Tanzania – as a way of boosting its chances of winning. However, Rwanda's football governing body has rejected the idea of co-hosting the tournament with Kenya.
On Saturday, the Prime Minister and his deputy Demeke Mekonnen received a delegation of CAF officials led by its President Issa Hayatou.
The delegation discussed ways of improving Ethiopian football and developing programs designed to benefit youngsters.
After the meeting, President Issa Hayatou expressed appreciation for the government's support to Ethiopian football. He also spoke of the possibility of Ethiopia winning the bid host the AFCON competition if the country is able to fulfill all of CAF's preconditions.
There has been a growing wave of support for the Ethiopian national football team following the Walya Antelopes' successfully qualification for the 2013 African Cup of Nations after more then three decades of being absent. But under new coach Marriano Barreto, the Walya Antelopes have failed to impress. The team has lost their first two qualification games against Algeria and Malawi for the next Cup of Nations.
Commentators have noted that the government recognizes the economic potential of hosting the tournament on its tourism industry and small businesses sector. Reports indicate that plans are underway to renovate and build state-of-the-art stadiums, according to FIFA and Olympic standards.
Ethiopia is one of the founding members of the African Cup of Nations and has hosted the tourney three times – in 1962, 1968 and 1976.
CAF is currently holding its annual meeting this year in Addis Ababa from the the 12th to the 20th of this month.