Uganda sets up Ebola screening posts along DRC and Kenya border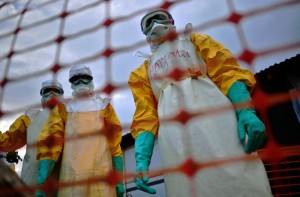 Red Pepper (Kampala) – Uganda is opening up screening centers at its borders with the Democratic Republic of Congo and Kenya to ensure that Ebola cases are detected and handled at these entry points, the director general of health services Dr. Jane Ruth Aceng has said.
The declaration was made yesterday afternoon as experts from the Ministry of Health visited the Entebbe International Airport Screening Center. Reports indicate that the purpose of the visit was to assess the country's level of preparedness amidst the escalating threat of Ebola that has devastated several West African countries in the recent past.
The disease has killed over 1,400 people in West Africa. Sierra Leone has been the hardest-hit, with at least 910 cases and 392 deaths.
In the face of the challenges in West Africa, the Democratic Republic of Congo has confirmed that two of the eight samples collected from the northwest Equateur province tested positive for the deadly disease.
The Entebbe Screening Center was set up on July 11th to screen travelers for Ebola signs and symptoms after an outbreak was declared in the West African nations of Sierra Leone, Liberia, Nigeria and Guinea. The center currently screens over 1,500 passengers on a daily basis.
Dr. Aceng also ordered for a Passenger-Tracking Record to be created for all airlines to enable the Screening Center identify potential Ebola suspects.
The Passenger-Tracking Record indicates the origin of the trip and the various stopovers that a passenger has made during the trip.
The Ministry of Health is also undertaking a number of programs to prevent the epidemic. These include; setting up and equipping the National Isolation Facility at Entebbe, strengthening surveillance in all districts, reactivating district taskforces and equipping health facilities along the border with all the necessary supplies and logistics.
Photo: New Vision