Kenya: New travel insurance restores tourists' confidence
By Martin Mwita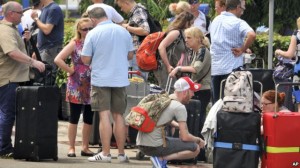 The Star (Mombasa) – THE recently launched inbound travel insurance has been embraced by foreign tourists and stakeholders in the industry.
According to AIG Kenya insurance, which in partnership with the Kenya Coast Tourism Association launched the product early this month, the cover has restored confidence among international tourists.
AIG Kenya chief executive Japh Olende said the product, which includes terrorism cover, has started receiving inquiries and sales.
Speaking at the Sarova Whitesands in Mombasa on Thursday evening, Olende said the product has been received well by European countries, the US, Australia and China among others.
"The product is live and has been received positively. The response is good. It has restored confidence among international tourists visiting the Kenyan Coast and we expect it to be a game changer," Olende said.
"We are now in awareness stage. There was a missing link because of insurance cover but now they have started making inquiries ahead of their bookings," he added.
The product was launched to cover international tourists whose countries do not provide cover for those traveling to the Kenyan coast.
This was as a result of the recent travel advisories issued against Kenya over insecurity at the coast.
Olende said the product has also been received well by the East Africa Tourism Association, which has signed a deal with AIG to promote tourism in the region.
He said tour operators have also included the cover in their packages for international tourists coming into the country.
KCTA executive officer Millicent Adhiambo termed the product as "an alternative cover that will bring international tourists into the country,"
She said the perceived insecurity in Mombasa had led to a drastic drop in the number of tourists, but the industry expects to bounce back.
"We are optimistic that the product will give a life line to the industry,' she said.
Adhiambo lauded county commissioner Nelson Marwa for addressing security challenges and bringing back calm in the county.