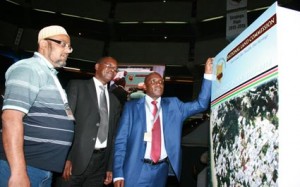 The National Land Commission (NLC) has officially launched its strategic plan for the next five years at the Kenyatta International Conference Centre on Monday, June 9.
The chairman of the commission, Dr. Muhammad Swazuri, noted that the plan outlines the organization's mandate until 2018.
He further explained that the plan will address many recurring issues related to land ownership, distribution and use in the country.
According to Mr. Swazuri, the NLC currently has about 5,000 unresolved cases related to land ownership and appropriation; which were reportedly inherited from the Ministry of Land, Housing and Urban Planning.
He pointed out that the commission has formed the Historical Injustice Taskforce to address these and many other pending cases that need to be investigated and properly resolved.
He went on to disclose that the commission plans to devolve more services to the counties and has set out to hire additional secretaries to handle the work load and speed up transactions.
The strategic plan also includes a scheme to create and maintain a secure and easily accessible land information system.
The NLC has additionally launched its website (www.nlc.or.ke), as well as other social media platforms to engage with the public.
Mr. Swazuri underscored the fact that the NLC is keen to facilitate the involvement of all stakeholders in the development of effective and acceptable land regulations.
The Chief Executive Officer of the NLC, Tom Aziz Chavangi, revealed that the commission has formed a County Land Management Board to provide services to and educate the public on the commission's initiatives.
"Given the sensitivity and centrality of land as a resource in the overall development of the country, there will be challenges which must be overcome with the support of all stakeholders," he said.
According to Mr. Sawzuri, the NLC has completed drafting new land regulations, as well as reforms to some existing laws. The NLC has since complained of difficulties in implementing the National Land Policy of 2009.
Meanwhile, Chief Justice Willy Mutunga, who was represented by Justice John Mutungi at the ceremony, has assured the NLC of the judiciary's support for its efforts to resolve these long-standing land-related disputes.
Photo/Phoebe Okall/Daily Nation