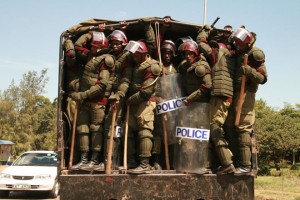 Police officers have shot and killed two suspected members of al Shabab in Mandera after reportedly intercepting them en route to complete an attack on Sunday, according to local reports.
Capital FM quotes police spokesman, Major Emmanuel Chirchir, explaining that Kenya Defence Force and the police gathered intelligence that three suspects, who were reportedly returning from Garissa, were planning to carry out an attack in Mandera.
He revealed that when they were confronted, the group attacked the security operatives; opening fire and hurling a grenade at them.
Locals say the heavy exchanges lasted for sometime. Reports indicate two of the suspects were killed on the scene, while one escaped. Officials claim to have retrieved grenades and other weapons from the vehicle the three were travelling in.
Tension has been high in Mandera since about twelve security operatives were killed in May after suspected al Shabab militants intercepted a military convoy.
Reports indicate that at least three people have lost their lives in attacks on two trucks this past week in Mandera County.
Officials have since noted that security has been heightened across flash points; which includes the country's five borders. Mandera County in the North Eastern region of Kenya is located close to the country's border with Somalia and Ethiopia.
Meanwhile, residents of Mandera have been protesting against the recent killings. According to them, the men killed in the attack were not terrorists, but well known law abiding citizens. One of them is reported to be a sheikh known as 'Hassan Black'. Local sources claim the group were returning from a peace mission in Rhamu when they were intercepted and gunned down.
al Shabab are yet to release any information on their link with the dead men.
Photo/Midnimo