Kenya condemns foreign travel alert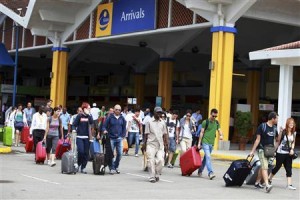 Kenyan authorities have criticized a recent travel advisory from the United Kingdom, the United States of America, Australia and France this week; which warns against visiting parts of the east African nation over concerns of impending terror attacks.
The move has been described as 'unfriendly' and officials have cautioned that the decision is supportive of al Shabab's intent to spread terror, according to local sources.
Reports indicate that tourists have began leaving the coastal areas in large numbers. British authorities have since commenced a rescue mission to evacuate their compatriots from Mombasa.
Meanwhile, tour operator, Thomson and First Choice, has announced the cancellation of all bookings in Kenya until October.
Many pundits have noted that this would come as a blow to Kenya's tourism industry – more so because figures declined steadily last year due to terrorist activities.
Kenya Tourism Federation have released a statement relaying their disappointment about the recent travel warnings.
However, the group has also condemned the "lackluster reaction and sometimes inaction" of the government in dealing with terrorism threats.
They go on to "demand that [the] Government gives tourism the importance it deserves. As one of the key sectors of the economy and a key pillar of the Kenya Vision 2030."
al Shabab have carried out a series of deadly attacks in Kenya this year as the war in Somalia intensifies. In response, the Kenyan government has heightened security and commenced an exercise to flush out illegal immigrants from the country.
Photo/Joseph Okanga/Reuters